DISCO-2 is designed by students from Aarhus University and the IT University of Copenhagen and is a 2U cubesat of 10x10x20 cm.
The satellite itself contains:
Expandable UHF antennas for communication with the ground station for satellite control
S-band patch antenna and potentially x-band patch antenna for high bandwidth downlink
Multi-band radio for communication via antennas to and from the ground station
Power system consisting of battery and solar cells mounted on the satellite itself and on expandable solar panels
Redundant computer system for command execution and control and monitoring of systems on board.
Attitude control system consisting of reaction wheels, magnetorquers and temperature, magnetic field, rotation and solar sensors.
Payload consisting of 3 cameras:

Optical camera with wide-field lens for exact location verification, large scale mapping etc.
Optical camera with zoom lens for high-resolution images of the earth's surface for the study of, glaciers, snow cover, icebergs and much more.
Thermal camera for measuring temperatures of the surface water at sea and for increasing the dynamic range when combined with optical cameras.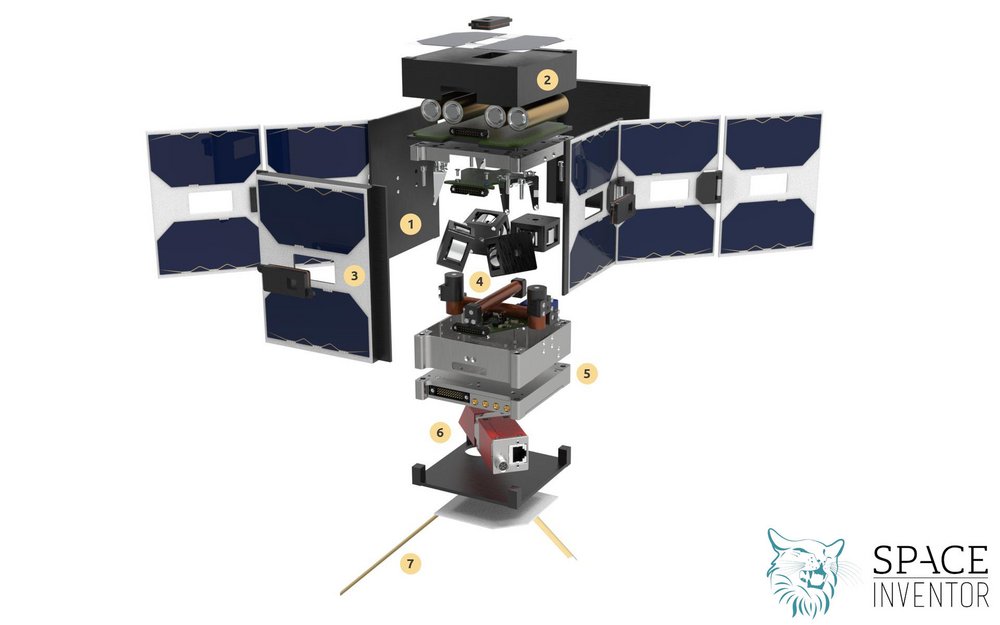 Exploded view of a cubsat similar in components to DISCO-2. Credit: Space Inventor
Aluminium structure
Electric power supply with batteries, separations switches, bus regulation, load protection, housekeeping
4 body-mounted solar panels + 2 double deployable solar panels
Attitude control system with 4 reaction wheels, 4 magnetorquers, 5 sun sensors, gyro, magnetometer, computer. Pointing modes: Nadir (sun-optimised), ground spot tracking (sun-optimised tracking), inertial, sun tracking
Multi-band transceiver with UHF/VHF low power link + S-band high speed link
Industrial color camera with custom optics and qualification
Monopole antennas for low speed link, patch antenna for high speed link