Nordic EMBL Partnership: Annual call for PhD students
The Nordic EMBL Partnership has opened its annual call for outstanding students seeking PhDs in molecular medicine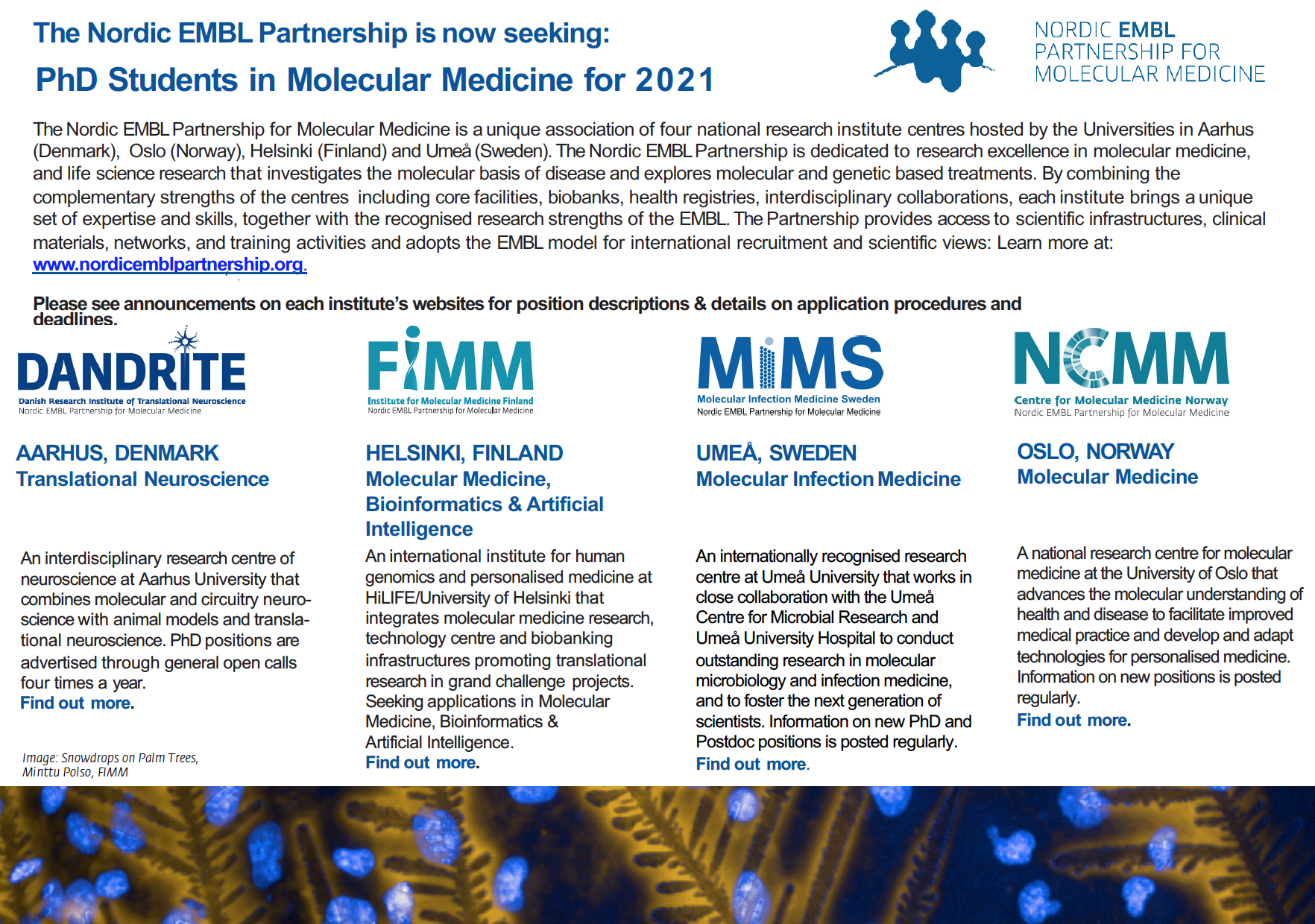 The Nordic EMBL Partnership is now seeking: PhD Students in Molecular Medicine for 2021
The Nordic EMBL Partnership for Molecular Medicine is a unique association of four national research institute centres hosted by the Universities in Aarhus (Denmark), Oslo (Norway), Helsinki (Finland) and Umeå (Sweden). The Nordic EMBL Partnership is dedicated to research excellence in molecular medicine, and life science research that investigates the molecular basis of disease and explores molecular and genetic based treatments. By combining the complementary strengths of the centres including core facilities, biobanks, health registries, interdisciplinary collaborations, each institute brings a unique set of expertise and skills, together with the recognised research strengths of the EMBL. The Partnership provides access to scientific infrastructures, clinical materials, networks, and training activities and adopts the EMBL model for international recruitment and scientific view.
Full details from each node can be found below, or you can download a PDF flyer of all opportunities.
DANDRITE, Aarhus University: Translational Neuroscience.
An interdisciplinary research centre of neuroscience at Aarhus University that combines molecular and circuitry neuroscience with animal models and translational neuroscience. PhD positions are advertised through general open calls four times a year.
FIMM, University of Helsinki: Molecular Medicine, Bioinformatics, and Artificial Intelligence
An international institute for human genomics and personalised medicine at HiLIFE/University of Helsinki that integrates molecular medicine research, technology centre and biobanking infrastructures promoting translational research in grand challenge projects. Seeking applications in Molecular Medicine, Bioinformatics & Artificial Intelligence.
MIMS: Umeå University: Molecular Infection Medicine
An internationally recognised research centre at Umeå University that works in close collaboration with the Umeå Centre for Microbial Research and Umeå University Hospital to conduct outstanding research in molecular microbiology and infection medicine, and to foster the next generation of scientists. Information on new PhD and Postdoc positions is posted regularly.
NCMM, University of Oslo: Molecular Medicine
A national research centre for molecular medicine at the University of Oslo that advances the molecular understanding of health and disease to facilitate improved medical practice and develop and adapt technologies for personalised medicine. Information on new positions is posted regularly.