MIMS Symposium 2022: a platform for showcasing collaboration in basic, translational and clinical research
MIMS welcomed its Executive Board and research community to the MIMS Symposium to share significant advances in research and its growing Baltic collaborations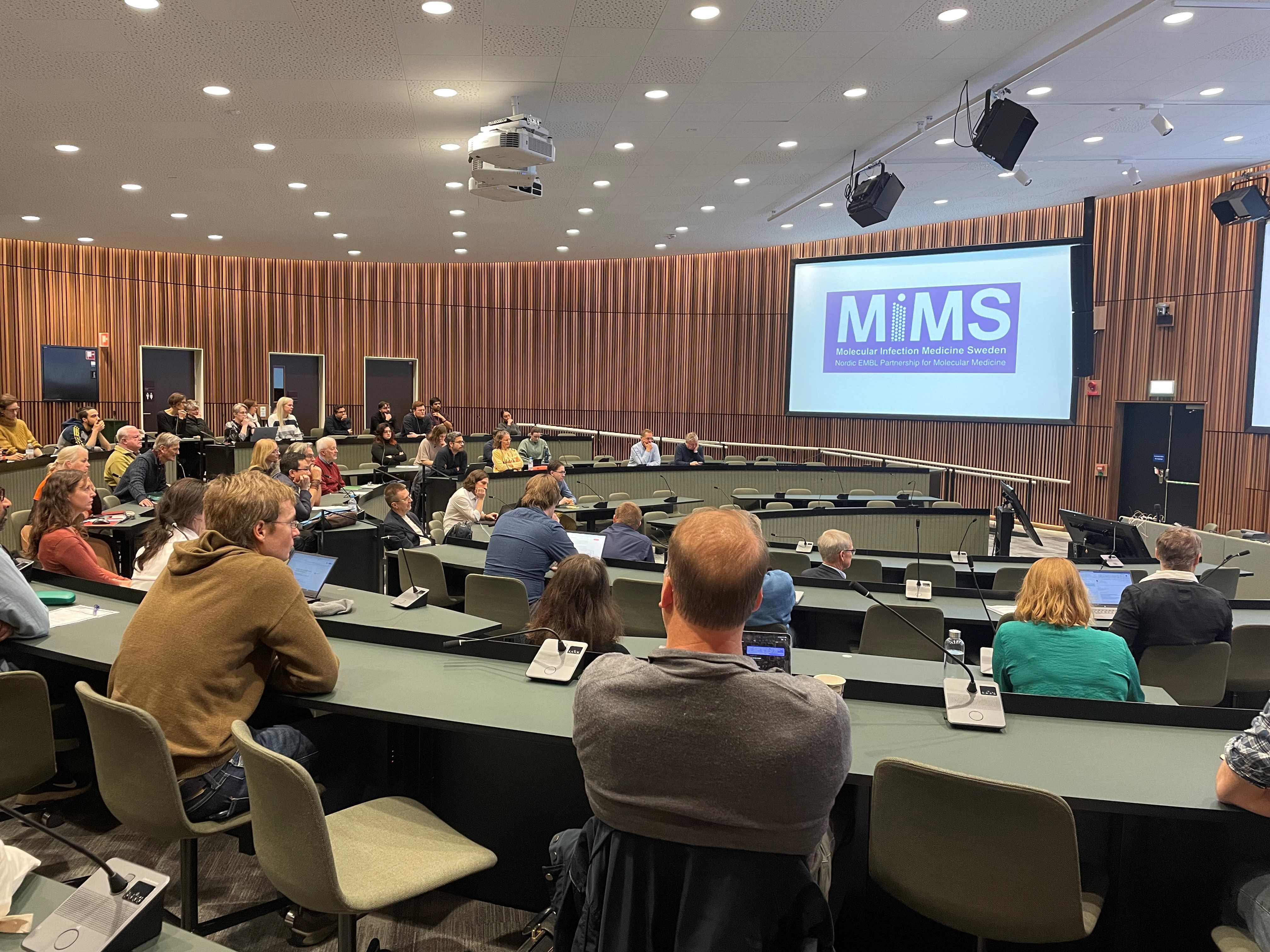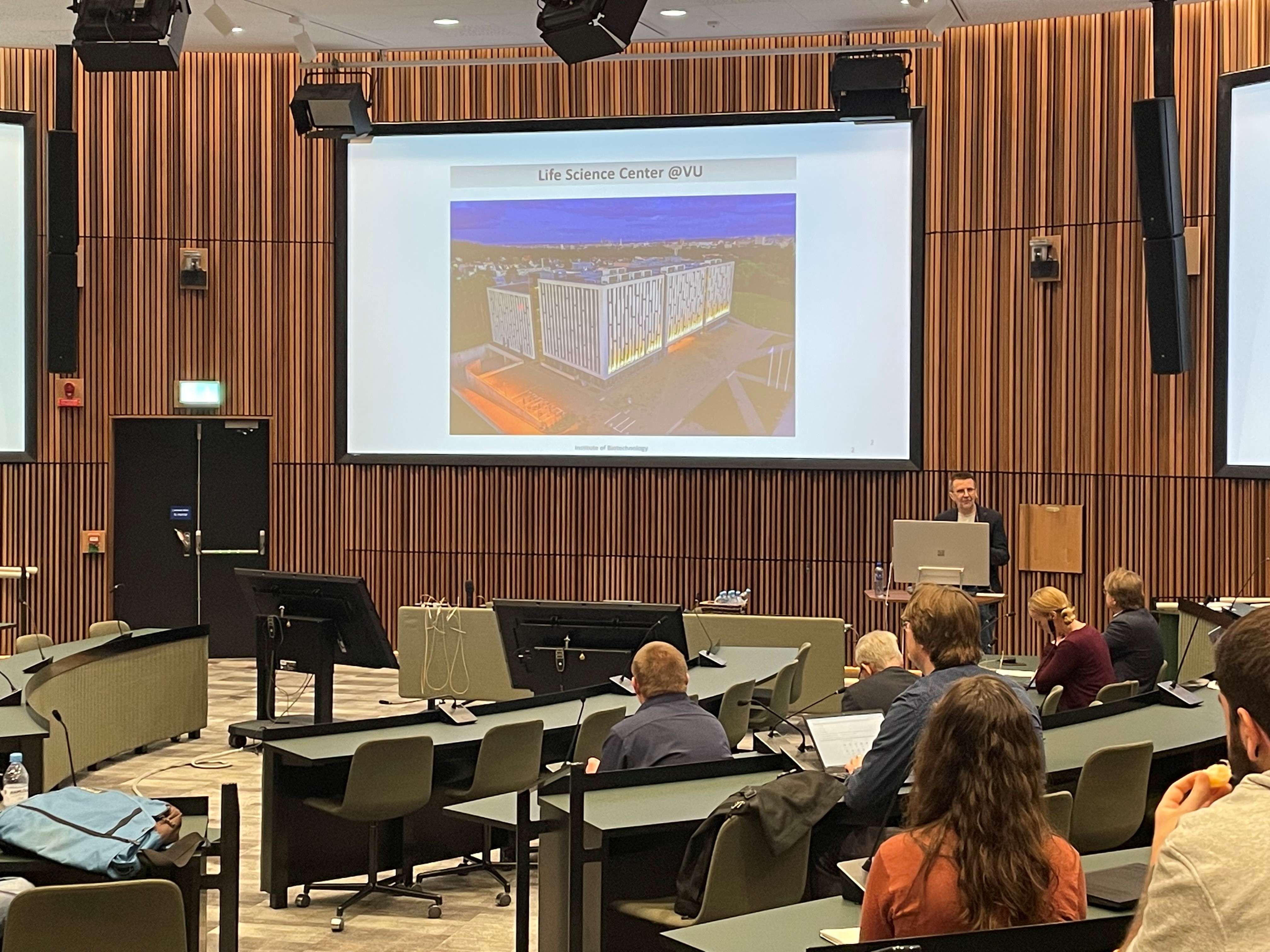 On November 11, 2022, the MIMS Symposium highlighted MIMS research and Baltic collaborations for the local scientific community and the visiting MIMS Executive Board.
In the first half of the symposium, leading scientists affiliated with MIMS presented significant, recent advances. Dr. Anne-Marie Fors Connolly, a MIMS Clinical Research Fellow, demonstrated the power of Swedish and Nordic registry data to better understand cardiovascular disease risk related to SARS-CoV-2 infection. Dr. André Mateus, a MIMS Team Leader, shared systems biology approaches to mapping bacterial protein function and characterizing functional units in cells. And, using advanced electron tomography techniques, Dr. Lars-Anders Carlson, a MIMS Investigator, showed how viruses rearrange the host cellular interior.
It was an impressive seminar with high-quality research presented and excitement in the room, emanating especially from the young community. There were lots of interactions and great hope for the future. The topics highlighted showed different aspects of infection biology research tackling challenges like antibiotic resistance and COVID-19. – Prof. Gunilla Westergren-Thorsson, Lund University, MIMS Executive Board member
With these different areas MIMS maintains close ties with clinicians, researchers driving local infrastructure, and pioneering fellows of other national programmes, all helping to translate basic research into powerful applied tools in medicine.
In the second half of the symposium the audience traveled in their minds along the Baltic Sea to Vilnius and Tartu and learned about existing joint research initiatives and opportunities for new collaborations.
Prof. Virginijus Šikšnys, head of the Vilnius University Life Science Center EMBL Partnership Institute, introduced the EMBL Partnership and presented key discoveries in genome editing technologies coming out of Vilnius. VU-LSC Group Leader Dr. Stephen Knox Jones piqued curiosity through interdisciplinary approaches - infection biology and tools for genome editing. With continually expanding possibilities that CRISPR-Cas systems provide, MIMS scientists look forward to collaborations with the Lithuanian EMBL Partnership.
Some say that what you don't know can't hurt you. But, I was thinking of the other side of that, which this meeting is a good example of: 'what you don't know can't help you.' A lot of times people focus only on conferences or meetings where they have a clear, specific topic that they want to know or learn about, but I would argue that it is actually the exposure to different topics where the cool stuff comes from. – Dr. Stephen Knox Jones, Group Leader, EMBL Partnership Institute at the Vilnius University Life Science Center
Prof. Tanel Tenson closed out the scientific symposium with a discussion of bacterial phenotypic heterogeneity and antibiotic tolerance. As one of the drivers of the MIBest EU Horizon 2020 project, he also emphasized essential collaborations with numerous MIMS group leaders and senior PIs. The MIBest project strengthens research capacity in infection biology at the University of Tartu by linking Tartu to two leading institutes in the field: Basel Biozentrum (Basel, Switzerland) and MIMS (Umeå, Sweden).
Overall, the event boosted long-overdue, face-to-face interactions with collaborators from the Baltic region, propelled new opportunities, and generated a special excitement for the local scientific community. Set on a backdrop of an annual MIMS Executive Board meeting and site visit and timed coincidentally with Umeå University's "KBC Days" annual celebration of life and natural sciences and infrastructure, the Friday symposium capped off an exciting week for science at Umeå University.
I am pleased that we could bring the community of infection researchers and microbiologists together locally, in the spirit of having scientific exchange, and exploring collaborative opportunities, at the same time as we have the members of the MIMS Executive Board here. – Prof. Oliver Billker, MIMS Director