Fostering cross border community in the Nordics
The Nordic EMBL Partnership Coordination and Operations team assembled in Oslo for two days to advance joint initiatives.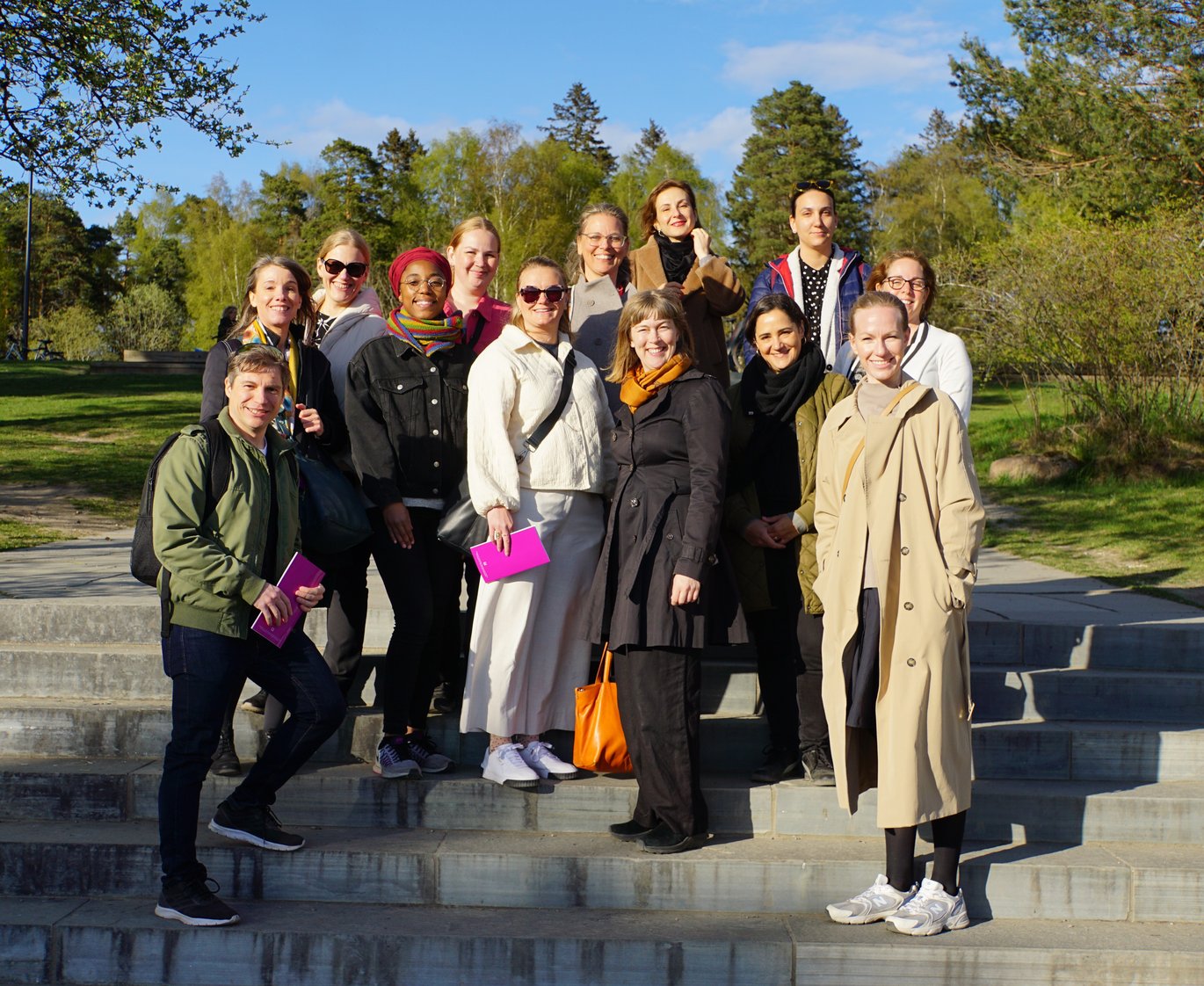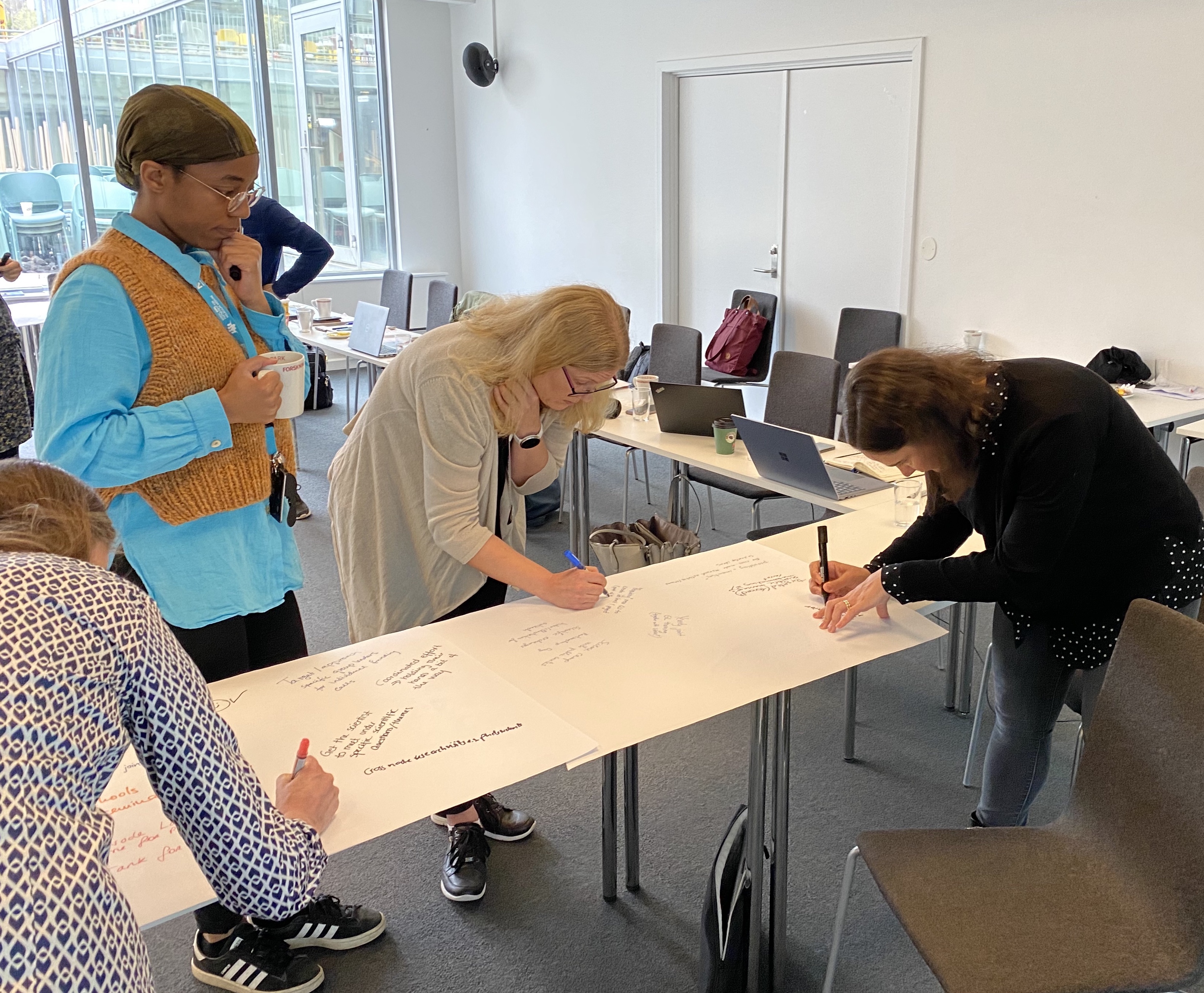 In early May, The Centre for Molecular Medicine Norway (NCMM) hosted thirteen colleagues from its three sister Nordic research centers and EMBL. The program offered a warm reception for the team after more than two years of solely remote interactions.
Strategic, engaging discussions on the first day covered a range of current and future operational topics. On the second day, the team engaged in a hands-on, interactive workshop to unfold new ideas for cross-node collaborations, held at NCMM facilities in the heart of the Oslo Science Park.
— We developed some new ideas to facilitate cross-node collaboration, and I'm looking forward to seeing these actions take hold as the nodes strengthen their partnership through cross-border collaborations with each other and EMBL. —Elisa Bjørgo, NCMM Head of Research Strategy, Communication and International Relations
Presentations from NCMM group leaders Camila Esguerra and Charlotte Boccara sparked interest in neurological disorders studied in the zebrafish model organism and the links between sleep and neurodevelopment, respectively. NCMM Associate Investigator Gunnveig Grødeland talked with the group about vaccine research in and beyond the SARS-CoV-2 pandemic. The program was capped off by Carl Henrik Gørbitz, Director of the Life Science initiative at the University of Oslo, who shared the plans for the exciting future home of NCMM in the new Life Science Building in Oslo.
— At NCMM, we were happy to gather for an interactive meeting where everyone could share their ideas and thoughts. A warm thank you to the local researchers who presented at the meeting and opened new ideas for research collaborations across the nodes and informed the Partnership about important developments in Oslo. We left the two days' meeting feeling energized and part of a larger community. —Elisa Bjørgo, NCMM Head of Research Strategy, Communication and International Relations
The strategy meeting was well-timed with the recent release of the new EMBL scientific program, and outcomes related to collaboration are highly relevant in that context.
— ​​​​​​2022 marks a new beginning for all of us, away from the constraints of the pandemic. For EMBL, it is an exceptionally important period, as we kicked off our new Program "Molecules to Ecosystems". It is a highly collaborative endeavor. We are challenged to think outside of the box and to work together in ways that will match our ambition to deliver societally relevant science. The meeting we had in Oslo was, I hope, a first of many brainstorming sessions that will help us capitalize on the wealth of expertise and talent that the Partnership is nurturing. —Plamena Markova, EMBL Head of International Relations
The team will continue the work started in Oslo and will re-group in September in Heidelberg, Germany during the EMBL Partnership Conference.