Congratulations to the Art and Science Contest Winners!
Three scientist-artists win the 5th Nordic EMBL Partnership Science and Art Competition.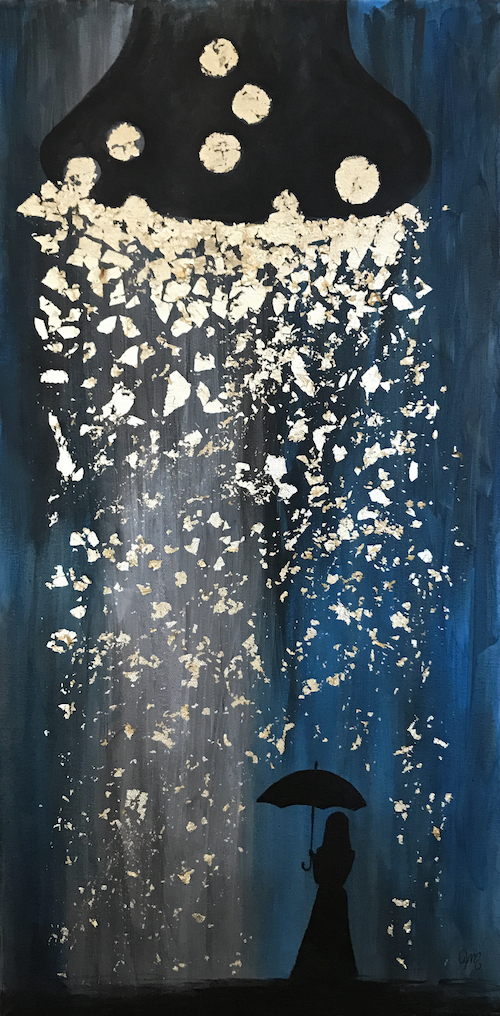 The contest opened in autumn 2021 and concluded with final voting by the Nordic EMBL Partnership community at the Partnership's annual scientific meeting, held on 2 February 2022.
Based on the 143 votes received, first place was awarded to 'A Walk to Remember' by Andrea Moreno from DANDRITE. Second and third places were awarded to FIMM researchers Annina Preussner and Minttu Polso for 'We're in this Together' and 'Take Me to the Candy Shop,' respectively.
Andrea Moreno reflects on the inspiration for her stunning acrylic on canvas and gold leaf painting:
The painting represents the spontaneous release of neurotransmitters that might be one of the causes of memory decay by synaptic depotentiation. In an allegory, by preventing the "neurotransmitter rain" to reach certain spots, the figure saves some memory traces from weakening.
A warm congratulations to the winners! Thank you to all who participated with entries and voting. We are grateful for and proud of all entries.
All eight entries will be printed on postcards and provided to each of the four Nordic EMBL Partnership institutes.