Children and brain tumours: In search of a cure
Blog by NCMM group leader, Dr Sebastian Waszak: Whilst there has been good progress in treating many types of childhood cancer, some remain incurable. New precision medicine approach offers hope for young patients diagnosed with a rare and incurable brain tumour.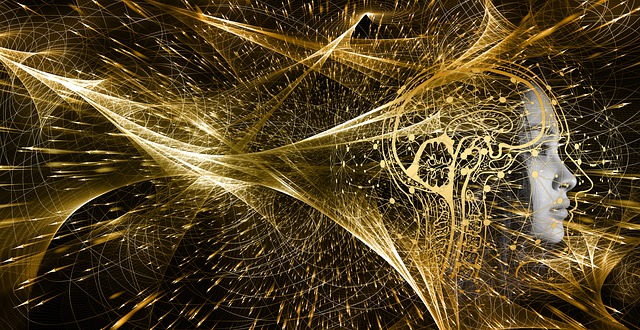 This spring, researchers from Norway and Switzerland will join forces to focus on finding a cure for one of the most deadly types of childhood brain tumour.
Brain tumours are one of the most common types of tumour that can affect children and teenagers. A particular type of pediatric brain tumour, called diffuse midline glioma (DMG) or diffuse intrinsic pontine glioma (DIPG), is a fast-growing tumour that develops in the middle part of the brain. This tumour can spread to all areas of the brain, with devastating consequences.
Aggressive brain tumour with a bleak prognosis
Less than 10% of children diagnosed with DMG will live for more than two years after their diagnosis, making DMG the leading cause of death among young brain tumour patients. There has been little progress in terms of treating DMG. A child diagnosed with the tumour today faces the same dismal prognosis as a child diagnosed decades ago. Due to the tumour's location, surgical removal is not an option. Radiotherapy is currently the only standard treatment for children diagnosed with DMG. Radiation improves symptoms and extends life for most patients, yet it doesn't offer a cure. We are, therefore, more desperate than ever to find a cure for this terrible disease.
Precision medicine approach offers hope to DMG patients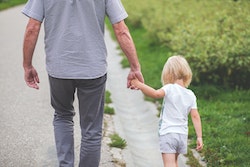 Freestocks.org, Pexels.com
During the last decade, new technologies and international research projects have improved our understanding of DMG and other aggressive pediatric brain tumours. This knowledge has already helped develop new treatment methods that are now being explored in clinical studies. One new strategy is based on using precision medicine, in which treatment is personalized according to the genetic profile of the child's tumour. Despite being rare, every DMG is different and contains a unique combination of genetic and epigenetic changes that drive the tumour's growth. If we can fully understand the genetic makeup of DMGs then we are in a much better position to understand which treatments will work best for each child.
Combine the latest technology with unique expertise
My group at NCMM, along with research groups in Switzerland, are part of a precision medicine project that will start this spring. Our combined team of biologists, data scientists, and engineers have been awarded funding in the form of a 'Sinergia grant' from the Swiss National Science Foundation. We will use the latest research techniques to try to find new drugs and combinations of drugs that work against DMGs. Our project will examine thousands of drugs that have already been approved for use in other diseases to test if they also have the potential to treat DMGs.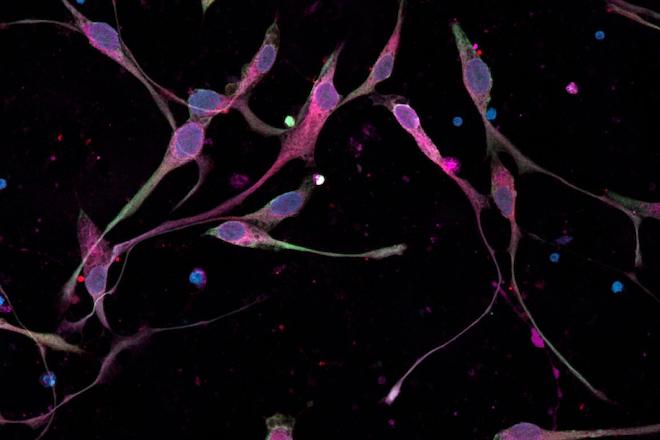 Micrograph shows DIPG cells, grown from patient cells, in culture. The cells are expressing several proteins, seen as blue, red and green colours. Credit: Shawn Gillespie, Monje Laboratory, Stanford Medicine
Each of us will contribute our expertise to develop a new pre-clinical screening platform; a method of testing out drugs in the laboratory before they are ready to be tested in patients via clinical trials. This will range from computational analyses (creating computer-generated models) of DMG genomes, to understanding how promising drugs work on brain circuits and how they impact on cognitive behaviour in animal models. We will examine samples taken from patients with DMG to test if existing and approved drugs are effective against these different samples and also what the potential side effects of these drugs are. We will also look for features within these DMG tumours that show how they might respond to these drugs.
Predicting which drugs work best for DMG tumour patients
My research at NCMM will involve working with tumour cell lines that have been established from 30 different DMG patients. I will analyze the genetics and epigenetic (modifications made to genes) profiles of these tumours, and build computational models to help predict how DMG tumours respond to thousands of drugs. My research here will help the team to identify drugs that prove effective in the lab and that can be further explored. It will also add to our knowledge of the genetics of the disease, which can then help to guide future precision medicine therapies to treat DMG tumours.
With limited treatment options for children with DMG/DIPG, our research consortium has high hopes for finding new treatments that will one day have the potential to save young lives from this devastating disease.
Find further information about the project here: International consortium receives funding from the Swiss National Science Foundation (SNSF) for precision medicine in pediatric brain tumours
Read this blogpost in Norwegian.
---
About Dr. Waszak
Dr Sebastian Waszak is Head of the Computational Oncology Group at the Centre for Molecular Medicine (NCMM). He joined NCMM in March 2020 from the EMBL (European Molecular Biology Laboratory), where he was a postdoc in the group of Dr. Jan Korbel. His research group focuses on developing precision medicine strategies for pediatric brain cancers and other rare diseases.
Learn more at: https://www.med.uio.no/ncmm/english/groups/waszak-group/
Read this blogpost in Norwegian.