Behind the Scenes: The Chemical Biology Platform at NCMM
Johannes Landskron, Head of the Chemical Biology Platform at NCMM, shares some insight into how the platform works, and why it is so important for researchers.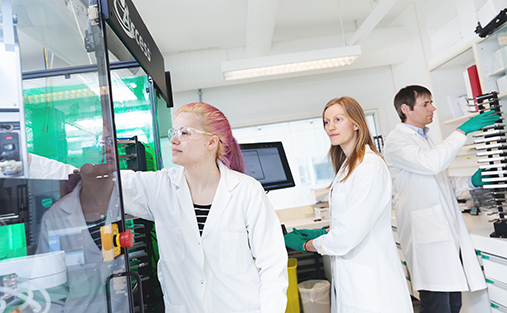 Can you tell me a little bit about your role?
I am responsible for the Chemical Biology Platform at NCMM. We are a core facility with a team of three, which includes myself and two engineers. One has a background in biotechnology and the other a PhD in organic chemistry.We offer all kinds of high-throughput chemical biology screening services to academic groups and industry, mainly SMEs. A large part of my daily work is of an administrative nature, and includes maintaining the infrastructure, coordinating activities with the partner facilities in our national and international consortia, and managing user access along with the different projects we are running on different levels. This can be anything from having initial meetings to outlining experiments, and summing up final reports. However, I try to participate in lab work and data analysis whenever possible.
How did you get to where you are today?
I started my career from a slightly different angle, doing a PhD in molecular biology. My project focused on the molecular mechanism underlying the circadian clock in fruit flies. I actually started with a genetic screen to identify novel genes showing a circadian expression profile.After finishing my PhD, I moved from southern Germany to Norway and started in Kjetil Taskén's lab. Here I worked in cancer and immunology research, mainly using flow cytometry. During that time I was involved in numerous projects and collaborations, also with the chemical biology platform. This involved working on assays and also on drug development. My work included setting up high throughput flow cytometry for screening, or mapping the effects of compounds on cellular signalling networks. This was an EU project called, "Marine Fungi – Natural Products from Marine Fungi for the Treatment of Cancer." At the beginning of 2017, I started in my current position as Head of the Chemical Biology platform at NCMM.
What services does the High Throughput Chemical Biology Screening platform offer?
Briefly, Chemical Biology High Throughput Screening (HTS) is the rapid, automated testing of thousands of chemical substances on biological systems to identify so-called "hit compounds" that show a desired effect. The biological system can therefore be anything from blocking a specific enzymatic activity, to inducing distinct phenotypes in certain cells. Screening is therefore a standard first step in drug development campaigns. The main service we provide at NCMM is the implementation of such screens for our users for their specific targets. This includes developing and automating the assay, performing the screen, data analysis, creation of a hit list, and hit validation.
We support a comprehensive and constantly growing spectrum of different assays and detection platforms, ranging from standard plate readers to cell based multi parameter screens, also termed "high content screens", like HT flow/imaging cytometry.The compound collection we offer consists of ~70000 different compounds, organised in various collections for distinct purposes, like drug repositioning - to mention just one. For new projects, we like to get involved as early as possible. This can be as early as the grant writing stage, where we can give input for the Materials and Methods sections and provide letters of support.In addition to offering a "full HT screening package" we, of course, also help users with different types of lab automation, liquid handling, storage of chemical substances, data analysis or simply provide access to our instrumentation (plate readers, HT flow cytometer, imaging cytometer…) and access to our network.
How do you help researchers?
The services we offer are very specialised. They require very costly laboratory equipment (both in purchase and maintenance), large chemical compound collections, bioinformatics solutions and highly specialised personnel. In other words, the types of analyses we are performing for our users are only do-able in a dedicated infrastructure, and would otherwise not be accessible for academic research groups and SMEs. Furthermore, we are part of a very active and inspiring national and international consortia. This means we are able to share chemical compounds, knowledge and technologies, run staff-exchange programs and so on.We are part of the Norwegian National Research Infrastructure, "NOR-Openscreen" (also managed here at NCMM) which again is part of the Nordic Chemical Biology Consortium, along with Sweden, Denmark and Finland, and EU-Openscreen. EU-Openscreen became the appointed European Research Infrastructure Consortium in spring 2018, and it currently has eight member countries. Our users benefit from this network directly and indirectly in many ways; after finishing a screening project in our facility it can be taken further at one of our partnering sites. For instance, the NOR-Openscreen node in Bergen can offer cheminformatics for projects, and there is also access to dedicated medicinal chemistry nodes within EU-Openscreen.
What do you enjoy most about your role?
There are several things that I really enjoy. We continuously have very interesting projects coming in, and it is always a pleasure to participate in excellent research whilst working with inspiring scientists. I also really like the networking that my role involves. Working together with other scientists in international and national consortia, and sharing expertise and organising staff exchanges, all make my job very varied and interesting. And last but not least, I like to "play" with our instrumentation and robots, although I hardly get the time to do that these days.
What has been the highlight of your career to date?
This question is always difficult to answer. I don't think there is a particular 'highlight' as such. It's rather a case of several events. A stand-out moment was the discovery of a specific mutation in a cancer patient cohort, although this finding unfortunately could not be pinned down. However, teaming up with the other groups who provided additional patient cohorts for the study was a really great experience. Over the last 20 years, similar episodes have happened for this particular rare mutation in the context of various diseases. I therefore still believe this mutation has quite an impact. It will be just very hard to unravel and will require much larger cohorts and a different type of patient follow-up.
What would you be doing if you weren't working in research?
This is a tough one because I genuinely like what I am doing! I started brewing a couple of years ago and perhaps doing something in that field, like running a microbrewery, could definitely be fun if I really had to do something else.For more information, including more detail on services available, visit the Chemical Screening Platform's webpage.