This example comes from Topping et al (2019), and shows how it is possible to combine species x landscape x management with costings and management goals for each species. The study used 10 landscapes from different parts of Denmark and hares, skylarks and beetles each with species-specific management goals (e.g. hares >7 female per square km).
The graph below shows the number of adult females for the three species considered in the analysis assuming we do not change management for 10 different landscapes in Denmark (x-axis).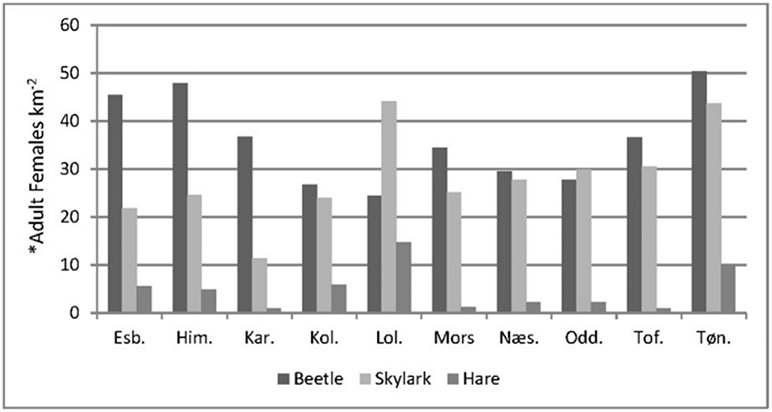 What is clear is that the starting densities of animals varies between landscape per species and within landscapes across species. There is no clear pattern. Hence, the baseline context varies and affects the ease of achieving fixed goals e.g. no female hares per unit area.
The diagram below shows what happens when we combine various potential managements (colour-coded for cost) with the landscapes and species. Coloured squares indicate that for that species combination we have achieved the management goals using that management on the landscape represented by the column.

The managements tested are mostly field margin managements and when only considering hares (a) for all landscapes there are multiple options. As we add new management constraints for skylarks and beetles the options decrease and the cost increases. In one landscape (Him) it was not possible to satisfy all the management goals using these managements individually.
Although relatively simple this example shows how we can develop multiple scenarios to test management or policy to enable decision making based on multiple criteria. For a real case we would of course consider many more combinations of managements to gain a fuller picture of the ease of achieving management goals.