The landscape model is at the heart of ALMaSS. The model can handle a landscape maps up to 50x50km, but typically we use 10 x 10 km areas. The model, with a 1-m resolution, provides detailed structures such as field boundaries, to be represented even at a map size of 10 x 10 km. The detail is one of the characteristics that sets ALMaSS apart from other models, it is also necessary to allow the realistic simulation of the behaviour of the range of species modelled.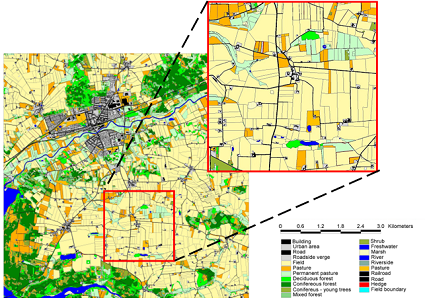 The landscape model provides the data for the animal models as well as providing one way in which model scenarios can be generated. The landscape model is a dynamic structure, with a weather simulator, a road-traffic simulator, and simulated farm management.
In ALMaSS, landscapes are modelled using a detailed, spatio-temporal representation that provides a realistic environment for agent-based simulations of the focal species. In this representation:
- Spatial landscape heterogeneity is described by a detailed raster land cover map with complete coverage and spatial resolution of 1 m<font size="2">2</font>. Each unit in the raster land cover map is classified in accordance with its landscape element type (e.g., natural or permanent grassland, field in rotation, build-up area), including detailed structures important for the species under consideration, such as hedgerows or field margins. To account for crop diversity, field boundaries are also added, with each field belonging to a given farm unit (managed by the same farmer). Farm units are classified into different types, e.g., cattle, pig or arable farms, based on structure of crops grown and animals present in the farm. This structure allows to incorporate information on farm management to the description of spatial heterogeneity in a given point of time (Topping et al. 2003, 2016).
- Temporal landscape heterogeneity includes both crop management throughout a year, described through individually tailored management plans for each crop, and the cropping system understood as a pluriannual crop rotation. Associated vegetation growth models for all modelled vegetation types and crops supply vegetation height, green and total, biomass on a daily basis and are fed by weather conditions (mean daily temperature, mean daily wind speed and daily sum of precipitation)
The generation of ALMaSS landscape models can be divided into the following sub-tasks:
(i) spatial (landscape) and non-spatial data collection & quality check
The first task is to collect the main types of data that will form the map and the basis for simulating the agricultural management in ALMaSS.