Long-Term Observatories
Long-Term Observatories (LTO's) are field sites that have been laid out to investigate different climatic, agricultural and management activities and their effects on the ecosystem. The LTO's utilised in EcoFINDERS are scattered around Europe to cover the climatic zones and different vegetation types and land-use (Table 1). The long-term observatories (LTOs) utilised by the project will allow us to evaluate the impact of different environmental filters on soil biodiversity and associated functions supporting ecosystem services. LTOs will favour interdisciplinarity, allow taking into account long-term treatments and to perform comparative analysis, which is a prerequisite to elaborate potential scenarios and to model and propose operational tools for policy makers. Experiments performed, under controlled conditions, will allow us to manipulate environmental conditions and analyse their impact on soil biodiversity and functioning in order to comprehend the different mechanisms highlighted in the context of the LTO. These experimentations will also allow us to determine the minimal biodiversity required for ecosystem stability and for expression of functions supporting ecosystem services.
The LTO's studied are:
Table 1: LTO's studied in EcoFINDERS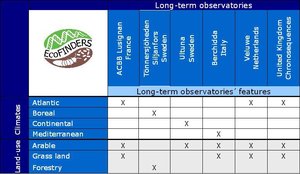 ---
EcoFINDERS are collaborating with other LTO's
During fall 2012 and again during spring 2013 and fall 2013 soil are sampled at six LTO's and analyzed for diversity of selected fauna, fungi and microorganisms. The access to all the LTO's are essential for the project and the assistance of the external LTO's are appreciated. The observations are essential for understanding biodiversity dynamics and for evaluating potential indicators to be recommended to the EU Commission for surveillance of soil biodiversity.
This is part of WP4: Evaluating and Developing Indicators for Biodiversity, lead by Professor Bryan Griffiths, SRUC, UK (Bryan.Griffiths@sruc.ac.uk).
The six LTO's participating are:
ACBB Lusignan, France
Castro Verde, Portugal
Hainich, Germany
National Grassland Survey, Lancaster, UK
Moskanjci, Slovenia
Scheyern, Germany (HelmholtzZentrum, München, Germany)
Further description can be found at http://ecofinders.dmu.dk/ltos/
---
Selecting and Deploying Biological Indicators across Europe.
Dr Rachel Creamer, Dr Dorothy Stone and Dr Bryan Griffiths.
Soil biodiversity is the engine driving soil based ecosystem services such as food production, nutrient cycling, carbon sequestration, and water purification (Wardle et al. 2004). The majority of the soil processes involved are mediated by the soil biota. The European Commission (DG ENV) acknowledge the importance of soil biodiversity in the role of ecosystem functioning and the Commission's soil strategy is to protect and enhance soil based ecosystem services, with a view to promoting sustainable intensification of agriculture. There is, however, not enough information available on soil biodiversity across Europe to allow informed policy decisions (Creamer et al. 2010).
The EcoFINDERS (FP7) project was set-up in 2011 to identify soil threats, harmonize methods for measuring biodiversity and to generate European datasets of soil biodiversity and ecosystem function. Teagasc is the lead partner in the work package dedicated to developing and evaluating such indicators.
Both known and novel indicators are being assessed across a range of land-uses and European climate zones. Large scale sampling campaigns are currently underway to determine the normal operating range (NOR) of potential biodiversity indicators and their sensitivity to soil threats.
In 2011 a suite of biological indicators were selected to indicate changes in soil biodiversity and ecosystem functioning in soils across Europe (Table 1). These indicators have been identified by a group of experts (The Ecofinders WP4 team and additional experts) as methods which are reproducible, reliable, cost effective and sensitive to a range of pressures. The sensitivity of these indicators to soil threats were assessed across six partner owned Long Term Observatories (LTOs) in spring 2012 and 2013. The sites used incorporated different land uses and management practices.
In addition, a transect of 81 sites across Europe of varying land use and climatic zone were sampled for the presence of biodiversity indicators. Sites ranged from Mediterranean arable soils to Boreal forest soils and included Alpine pastures and wet Atlantic soils. These sites were sampled in autumn 2012 and analyses are currently underway. Not all indicators were applied to the transect soils, only 1 visit was possible per site and samples had to be small to send across Europe to the many institutes involved in analyses.
In addition to all the biological parameters being measured at the sites, a minimum set of soil chemical and physical properties are measured to support data interpretation. These properties include; Organic C, pH, texture, cation exchange capacity (CEC) and base saturation.
Table 1. Biological indicators applied in Long- Term Observatories and Transect sites across Europe.
Biodiversity

Function

LTO

Transect

TRFLP* (DNA&)

X

X

Protozoa (DNA)

X

X

PLFA**

X

X

Fungi (ergosterol)

X

FG*** nitrification (DNA)

X

FG denitrification (DNA)

X

Earthworms

X

Enchytraeids

X

X

Micro-arthropods

X

X

Nematodes

X

X

Bait Lamina

X

Water infiltration

X

Resilience

X

Nitrification

X

X

HW-C & PM-N****

X

Micro-resp

X

X

Biolog

X

Enzyme Activity

X

X

FG Supressiveness (DNA)

X
*Terminal Restriction Fragment Length Polymorphism
& analysis of DNA extracted from soil
**Phospho-lipid fatty-acid analysis
***Functional gene analysis
****Hot water extractable carbon and potentially mineralisable nitrogen

Figure 1. Distribution of 81 sites representing a pedo-climatic transect across Europe.
---
LTO activities:
Video presenting the GenoSol soil sampling procedure used in EcoFINDERS soil sampling
http://www.youtube.com/watch?v=_k7BEInBXEc&feature=youtu.be
---