Research to enhance functional biodiversity on organic farms
Two new CORE Organic Plus projects have been launched to investigate promising techniques and activities to improve functional biodiversity on organic farms.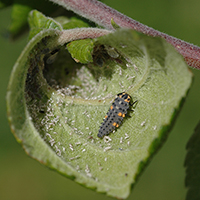 Diseases, weeds and pest problems are serious threats to the improvement of organic production. Biological control is a common practice but limited functional biodiversity within the farming system restricts its efficacy.
In both projects much attention is given to close collaboration with stakeholder networks including farmers, advisors and educators during the projects and in farm trials, thus ensuring that the methods developed meet the needs of end-users.
ECOORCHARD focuses on promising techniques and tools to improve the management and design of functional biodiversity for pest management in existing and future apple orchards. Novel, functional biodiversity systems such as flower strips between tractor wheels that can be adopted in existing orchards will be identified, tested and validated.
"The development of simple protocols for the establishment and monitoring of functional biodiversity on farms should facilitate the adoption of measures on a wider scale" says Lene Sigsgaard, the Danish coordinator of ECOORCHARD. More information on the project can be found on this website http://coreorganicplus.org/research-projects/ecoorchard/.
PRODIVA aims to improve the understanding of crop diversification and its impact on weeds in arable fields. "The goal is not to eradicate weed problems, which is unlikely to happen in any arable farming system, but to maintain a diversified and manageable weed flora that can support beneficial organisms" explains the project coordinator Bo Melander of Aarhus University (DK).
Different crop sequences, cover crops, crop species mixtures and variety mixtures of oat and spring barley varieties will be studied in field experiments for their relevance for weed suppression and their effect on yield expectation. More information on the project can be found on www.coreorganicplus.org/research-projects/prodiva/.