Organic food processing research highlighted at BIOFACH
CORE Organic arranged a seminar at BIOFACH Congress and co-organized Science Day. Research for organic food processing was in focus.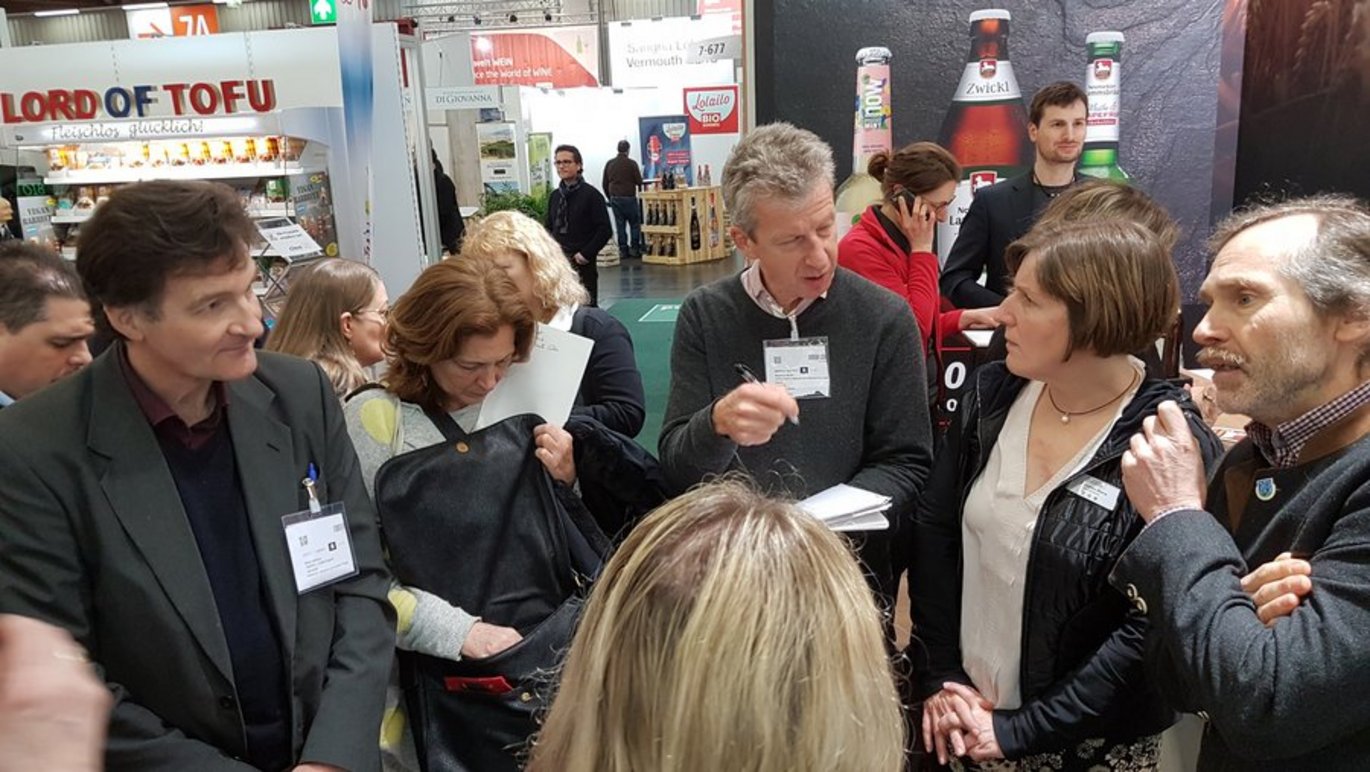 As the demand for organic food is rapidly growing there are great potentials for companies to develop new organic food products. But there are also obstacles and difficulties. What kind of processing methods can be considered as organic, and how do we develop new appropriate organic processing methods? There is a need for research, but so far there haven´t been so many cooperation initiatives between research and organic food processing companies. At the BIOFACH Congress in Nuremberg in February CORE Organic arranged the seminar "European research meets organic food processing at eye level".
This was the first time CORE Organic arranged events at BIOFACH. A delegation from the CORE Organic Cofund consortium had a special two-days programme where, besides visiting the CORE Organic events, the purpose was networking and planning for coming future programme activities.
Niels Halberg, director of ICROFS (International Centre for Research in Organic Food Systems), and coordinator of CORE Organic, emphasized in his opening speech at the seminar that many organic food processing companies are small and cannot afford research and development work by themselves.
– It is therefore important that we can keep on researching together with them, gathering the resources in international projects, he said.
– There is a need to fill in the knowledge gaps, stated Cyril Bertrand director of CRITT Agroalimentaire, France and coordinator of TRANSFOBIO, a network for organic processing. TRANSFOBIO has among other things the objectives to bring tools and methods for food industries to be more efficient in product formulation, process choices and answers to consumer expectations.
Unique needs
Cyril Bertrand presented results from a participatory meeting, where the most prioritized research topics for the organic industry were agreed on (see presentation). It made it very clear that there are a lot of needs for research that is unique for organic processing compared to conventional, e.g. topics about how organic primary production system impact on processed organic food or alternatives to additives that not are allowed in organic food.
Roberto Pinton from AssoBio, the Italian association of organic processors, and partner in the new CORE Organic Cofund project ProOrg that aims to develop a Code of Practice that will provide strategies and tools for decisions making for food processors and organic labelling organizations.
Robert Pinton exemplified by telling about two different successful Italian companies; Germinal BIO and Aboca (see presentation). Those two companies have their own research and development activities and facilities, but their research needs are completely different. Germinal has a challenge in developing organic and vegan products with no allergens, which require a lot of testing, while Aboca needs sciences as botany, phytochemistry, genetics and more to develop their herb products.
– One size does not fit all, Robert Pinton emphasized while he at the same time pointed out the importance of networking and knowledge sharing.
Also the German association of organic food processors (AöL) is a partner in ProOrg. Johanna Stumpner told about experiences from the organisation (see presentation). As several of the speakers, she pointed out that the capacities for research are rather small as the sector still mainly consists of SMEs.
– Cooperation with companies and research institutions from different countries bring important impulses due to cultural differences, she said. On the other hand she lifted the benefit of having a common European regulation and market, which makes it easier to find common solutions for problems.
Complex procedures and slow progress
Johanna Stumpner also pointed out some serious obstacles for companies to take part in research projects. They see the call procedure as way too complex with heavy administrative efforts needed. They have also limited access to research calls and they think research projects take too long from the beginning of application to the end of the project. The problem might not longer be relevant.
The last talk of the seminar was a presentation of the ERA-NET SUSFOOD 2 , which has an adjacent scope to CORE Organic. Nikola Schulz (SUSFOOD2 coordinator) listed examples of SUSFOOD projects that touch upon subjects with potential interest also for the organic sector (see presentation).
The following discussion concluded that to get companies to cooperate it is important to find subjects that don't threaten the competition. Different companies have different expertise and together they can accomplish common values. It was also pointed out that the industry organizations are very important, for example when it comes to inform about calls. We should also try to find forms for very short and rapid projects, focusing on solving limited problems and to find new arenas where research and industry can meet.
Crowded on Science Day
Beside the seminar, CORE Organic was co-arranger together with TP Organics of the first half of Science Day, a yearly event at BIOFACH. It was the largest audience on a Science Day so far, with no empty chairs in the hall.
The morning session was dedicated to EU Research and Innovation Policy. Hans-Jörg Lutzeyer from DG Research and Innovation and Annette Schneegans from DG Agriculture and Rural Development were among the speakers (see presentations, Lutzeyer and Schneegans). Annette Schneegans urged for a wider focus, not only on food.
– With a focus only on food a lot is getting lost, for instance rural development. We need to focus both on food AND agriculture, she stated.
There were also presentations from industry partners in CORE Organic projects. For example Giovanni Marino from the Italian company G-teK srl told about the solar dryers they have developed and the activity within the project FaVorDeNonDE. The solar dryers can produce dried food like fruit, vegetables and even fish with exceptionally good quality and long shelf-life without advanced packages and with the sun as only energy source (see presentation).
A panel discussion closed the European part of Science Day. Philippe Vinçon, General Director for Education and Research at the French Ministry of Agriculture and Food, called for a large research and innovation mission for the transformation of food and farming based on agroecological principles. Hanns-Christoph Eiden, President of the German Federal Office for Agriculture and Food, spoke about the target of the new German government to achieve 20 percent organic farmland by 2030, and the role of research and knowledge exchange in this.
Marian Blom from Bionext, and also representing CORE Organic, gave some examples on areas where there are needs for research. Among other things she mentioned questions related to the fact that the organic farms are getting larger, which prolongs transports, requires more packaging etc while sustainability and transparency still are required. Marian Blom also called for more research on how to design more diverse production systems and pointed out the importance of integrating research from different disciplines and to conduct research in a context.
Participants also discussed the need for mild and small-scale food processing techniques for SMEs and on-farm; and explored how to improve communication towards consumers and the role of digitisation in this.