Learn to grow vegetables in the winter: two Greenresilient factsheets published
It must be every hobby gardener's dream to harvest fresh vegetables from their own garden, raised bed or unheated greenhouse in the winter. The good news: this dream can become reality with the two new Greenresilient factsheets
Growing fresh winter vegetables in Central and Northern European greenhouses without heating is a good example of low-input food production, with a small environmental footprint. It utilises the frost resistance leafy crops instead of wasting energy and resources through intensive greenhouse production with heating and artificial lighting or long transportation distances of imported greens. Winter crops can be grown either in open field or in protected areas such as unheated greenhouses or polytunnels. Two new factsheets written by Greenresilient partners at HBLFA - Federal Ministry of Agriculture, Regions and Tourism in Austria - 'Wintamine' and 'Taste of Winter' cover these topics and provide practical tips for growing your own vegetables through the winter.
Wintamines
There is a whole range of vegetables that can withstand even the harshest winter frosts and thus make a vitamin-rich harvest possible throughout the winter months. The new Greenresilient factsheet provides portraits of ten selected winter vegetables, including information about cultivation, how frost hardy they are, how to protect them in the winter, when to harvest, and tips on how to use them.
Take a look at these two factsheets below to learn more about nutrition, taste and how to use selected winter vegetables:
'Wintamine' factsheet
Harvest winter vegetables in your own garden, raised bed and unheated greenhouse: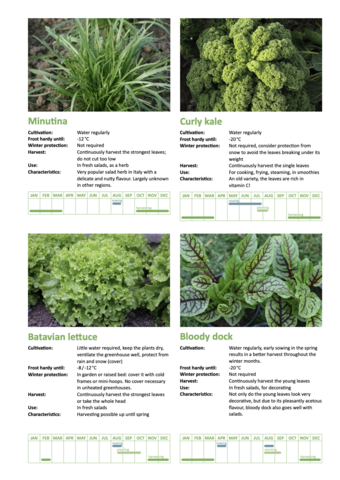 'Taste of Winter' factsheet
This factsheet below focuses on four winter greens: asain greens (mizuna, mustards, tatsoi and mibuna), wintercress, minutina and arugula. The taste of each are explained and some recipes are provided for inspiration!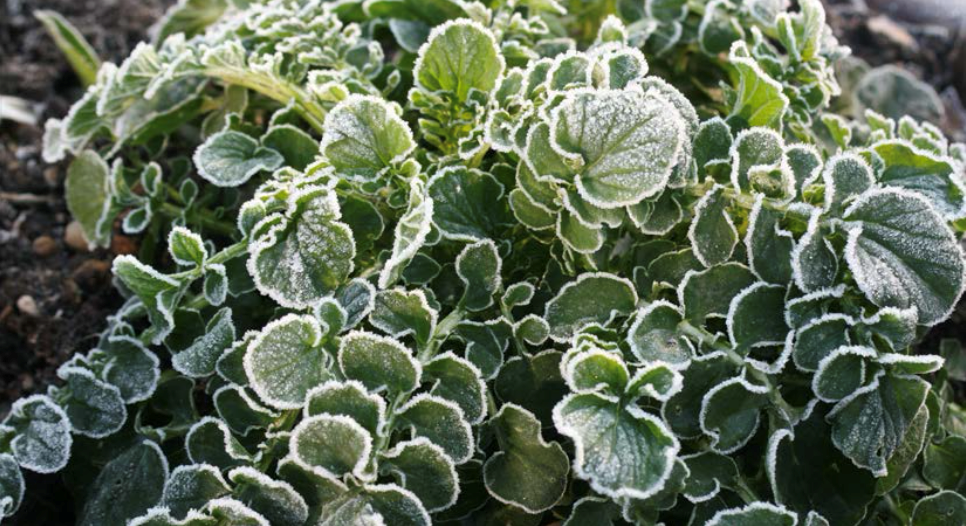 Wintercress is a wild plant and has been a long-valued folk medicine. Its flavor is pungent and zesty with notes of horseradish; that's why it is great to use as a seasoning herb in salads, as an addition to sandwiches or to make pesto, featured recipe can be found in the 'Taste of Winter' factsheet. Photo: Wolfgang Palme, HBLFA - Federal Ministry of Agriculture, Regions and Tourism.
---
Wintamines factsheet on project website
On Greenresilient project website: https://www.greenresilient.net/service/news/wintamines-harvest-winter-vegetables-in-your-own-garden-raised-bed-and-unheated-greenhouse.html
Organic Farm Knowledge, direct download: https://organic-farmknowledge.org/tool/39473
Taste of Winter factsheet
On Greenresilient project website: https://www.greenresilient.net/service/news/taste-of-winter-new-greenresilient-leaflet-about-using-winter-vegetables.html
Organic Farm Knowledge, direct download: https://organic-farmknowledge.org/tool/39442
Greenresilient responsible partner: HBLFA - Federal Ministry of Agriculture, Regions and Tourism: https://www.greenresilient.net/partners/hblfa-au.html
---
Authors
Lauren Dietemann, Research Institute of Organic Agriculture FiBL. Lauren.dietemann@fibl.org, www.fibl.org
Wolfgang Palme, HBLFA Schönbrunn. wolfgang.palme@gartenbau.at, www.gartenbau.at
---
Editor: Karin Ullven / Design: Christine Dilling