This guide is tailored to Windows machines, and use a build system based on CMake. For an example on how to build on Linux machines, please see FABM.net. CMake generates platform-specific build systems. In the example below, we have used CMake 3.10.0 to generate a build system for MS Visual Studio with an Intel Visual Fortran integration. You may follow the individual steps in the guide below to build a GOTM executable with FABM and WET integration.
Open CMake and point to GOTM source code directory
Choose build system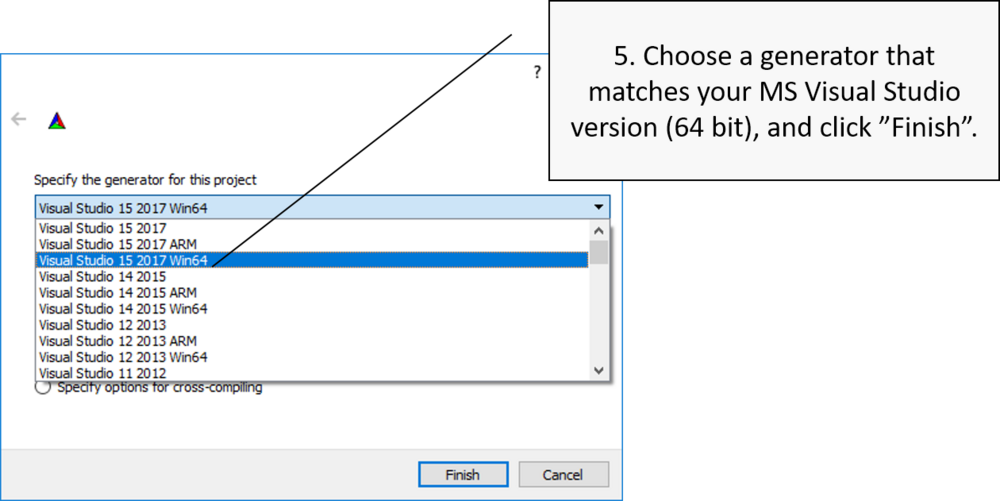 Point to FABM base
At first, you will get an error (if you get a pop-up with an error message simply click "OK"), as CMake does not know where to find the FABM code repositories (including the FABM base and WET). We need to point to FABM base, and also WET and/or ERSEM, if we want to include these in our MS Visual Studio solution.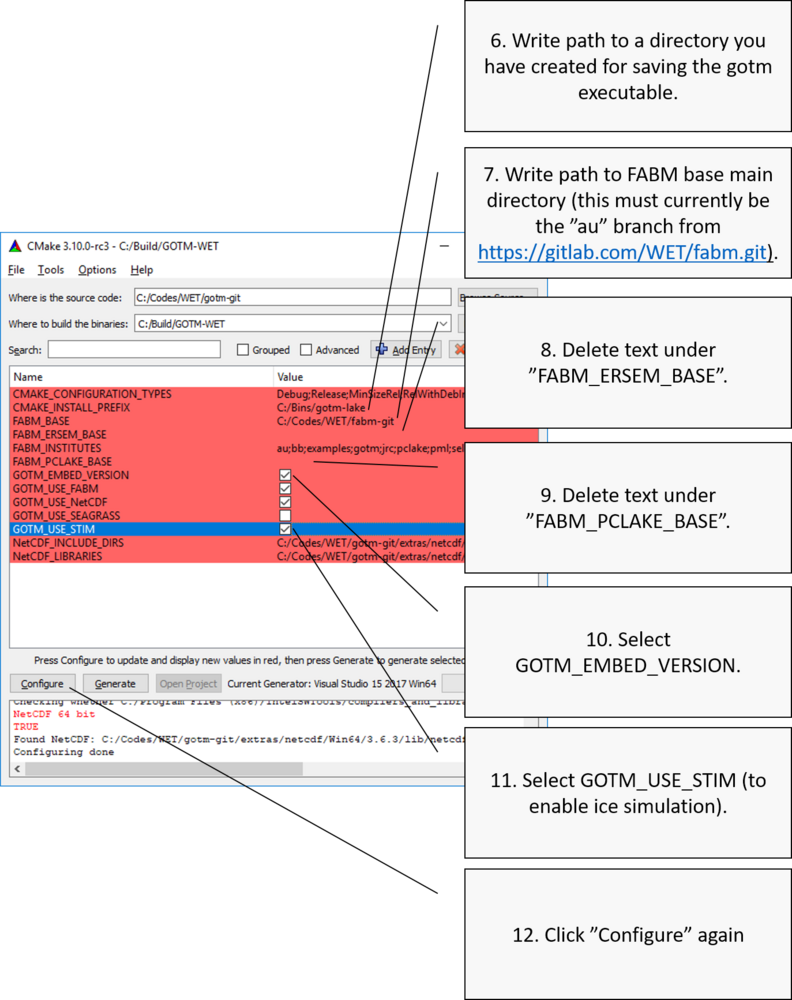 Point to WET directory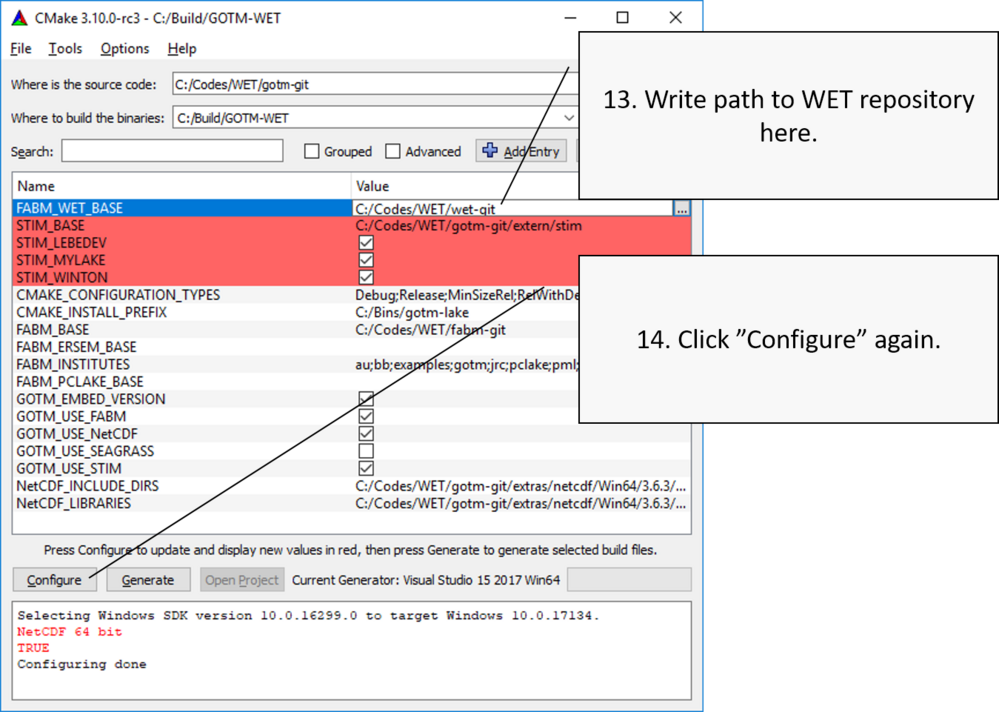 Generate MS Visual Studio solution
When Configuration is completed successfully, no menu items should be highlighted with red. Then you can create the MS Visual Studio solution file, which can be opened and used to compile the GOTM executable including FABM and the WET model. Click Generate to create this solution file.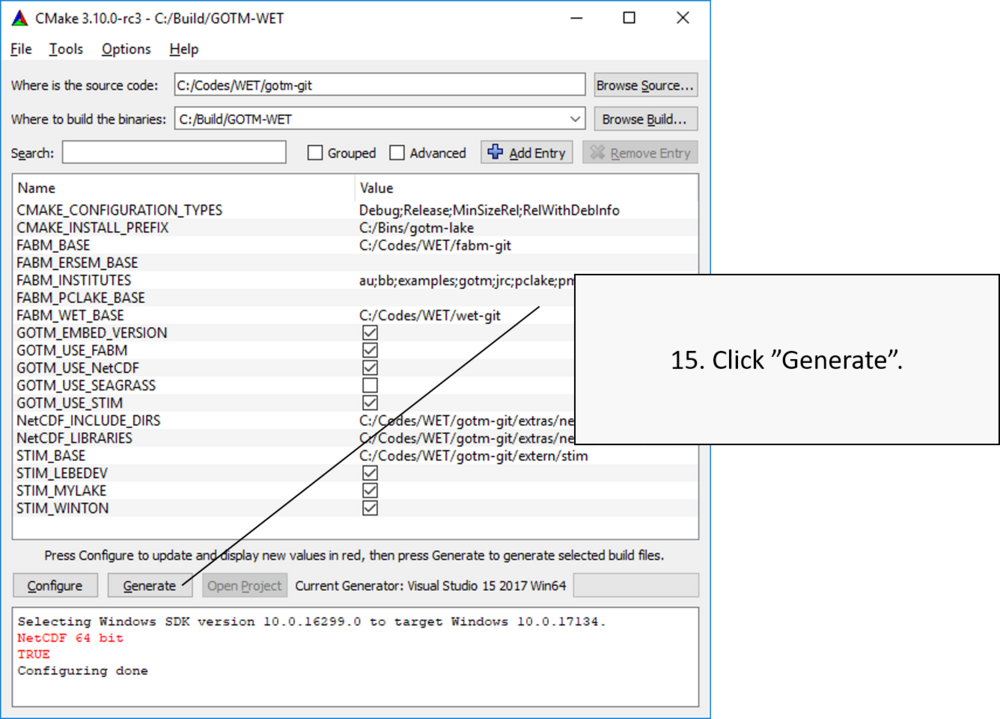 Compiling
When Generation of solution file is successful (as seen below), you can locate the MS Visual Studio solution file under your "Build" directory, which you specified in the second step of your CMake configuration (i.e. "Where to build the binaries"). You can also open the solution file by clicking on "Open Project" within CMake. You may now close CMake.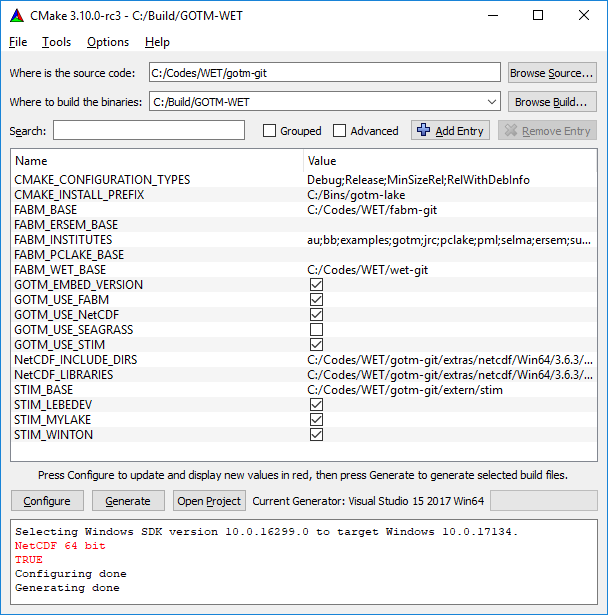 Example of build directory is seen below.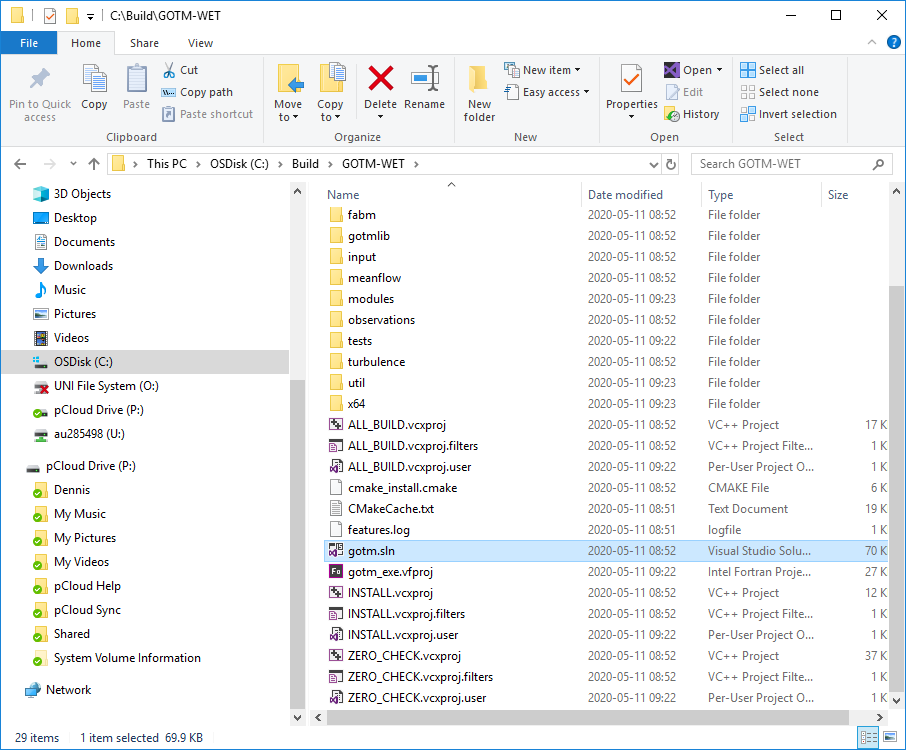 Building the GOTM executable
Open the gotm solution in MS Visual Studio. Then choose "Release" version (if you want a faster executable without debug info), then click "Build" and "Build Solution" to compile the GOTM executable with FABM and WET support. Do not be alarmed if it seems as if compilation has aborted (as illustrated below). The aborted compilation is only for an additional test module (which unfortunately cannot readily be switched off during compilation on windows machines).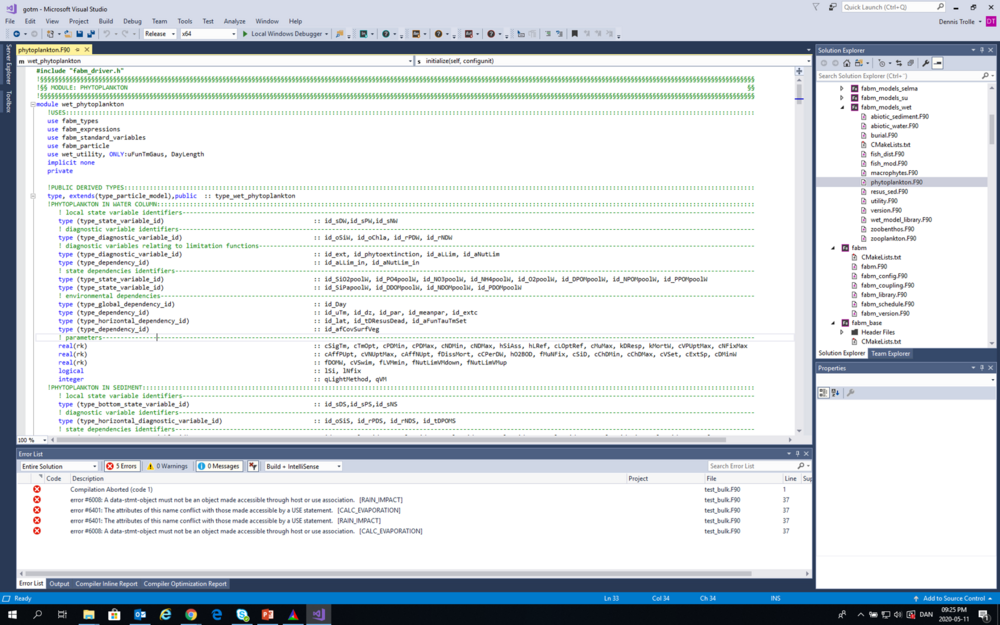 You can now find the GOTM executable in a subdirectory inside the folder of your MS Visual Studio solution (e.g., in folder called Release, if you compiled in Release mode, or Debug if you compiled in Debug mode). You can also right click on the INSTALL project inside MS Visual Studio (under the Solution Explorer at your right-hand side) and click "Build" – this will copy the gotm executable to the directory you have specified in your CMake configuration.
Modifying WET source code
Within the GOTM solution, when open in MS Visual Studio, you can find the WET source files under the Solution Explorer (your right-hand side) under fabm\models\fabm_models_wet\. You can review and change code within these files, and then re-build the gotm executable. Please see FABM.net for further details on how to write FABM compliant code for a biogeochemical model.