Lake Hinge is a small, shallow lake with max depth of 2.6 m and a surface area of 0.91 km2. The lake has a low hydraulic retention time (between 2 to 4 weeks) and is located in a catchment dominated by agriculture. In the last twenty years, the lake has experienced improved water quality conditions. The hydrodynamic-lake ecosystem model, GOTM-FABM-PCLake (now called GOTM-WET), was applied to Lake Hinge to investigate the effects of nutrient load reductions. First, the model was calibrated and validated against a comprehensive dataset covering 14 years of observations including temperature, inorganic and organic nitrogen and phosphorus, chlorophyll a and submerged aquatic vegetation coverage. Then, a series of nutrient load reductions was simulated with the validated model to investigate at which nutrient load reduction the lake would likely recover to a clear water state. Approximately a 50% reduction in nutrient loads relative to years 2001-2005 would lead to clear water conditions and high coverage of aquatic vegetation.
This model study took advantage of the newly developed auto-calibration tool, ACPy (now called ParSAC). This enabled calibration of many more model parameters than typical done in model-based studies, and also resulted in a very good model performance in both calibration and validation periods.
For further details on the model study of Lake Hinge, please see the article published in Ecological Applications (2020):
Predicting ecosystem state changes in shallow lakes using an aquatic ecosystem model: Lake Hinge, Denmark, an example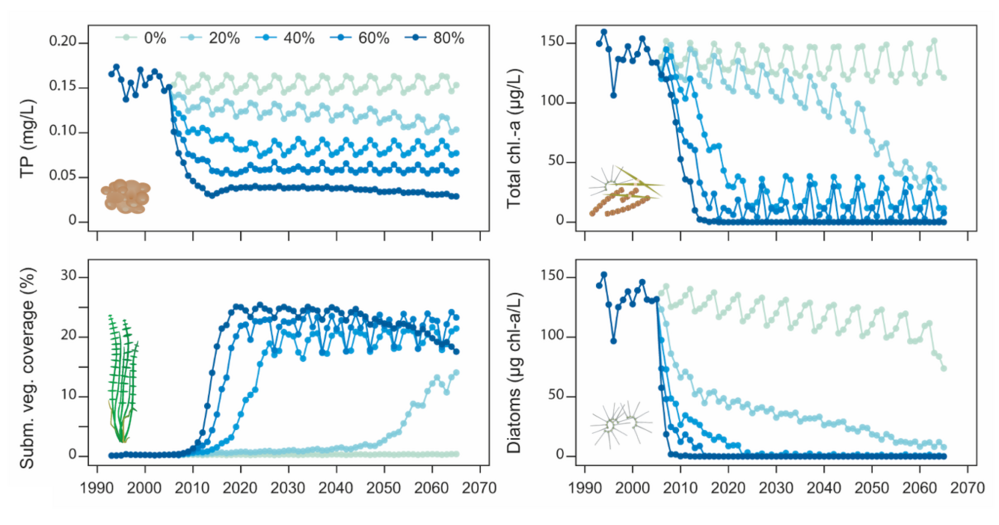 Figure: Lake model simulations from 1993-2065 with five different nutrient load reductions from the period 2001-2005. Higher reductions in nutrient loads results in decreased total phosphorus (TP) and chlorophyll a (chl.-a) concentrations. In contrast, submerged aquatic vegetation benefits from reduced nutrient loads and increases in coverage.
In early 2020, FABM-PCLake was updated and modularized to the new lake ecosystem model WET (Water Ecosystem Tool). For the latest source code, please see www.gitlab.com/WET/wet.