Ecosystem services: Adaptive EU policies for future EU regions. International Colloquium: September 30- October 4, 2013 Bratislava. Stakeholder workshop organized by CE SPECTRA - Slovak Academy of Sciences -Institute of Forest Ecology, Slovak University of Technology and CzechGlobe -Global Change Research Centre, Academy of Sciences of the Czech Republic. See program here

Experimenty ako ich nepoznáme. 2014 Poster at Researchers Night in Slovakia. See more here

Krogh, P.H. Om jordbundsdyr kan lide landbrug: - og om FRDK går hånd i hånd med regnormene. Oral presentation at FRDK (Foreningen for Reduceret Jordbearbejdning i Danmark) 28/1 2014.
Krogh, P.H. 2014. TV2 Vejret: Regnorme og regnvejr (Weather forecast at TV news: Earthworms and rain) Watch on YouTube here
Groot, G.A. de, Laros, I., Dimmers, W.J., Beentjes, K., Doorenweerd, C., and Faber, J.H. 2012. Monitoring mite diversity in European soils using high-throughput eDNA barcoding tools. In: EU FP7-project EcoFinders, Peyresq, Frankrijk, 6 September 2012. - Peyresq, Frankrijk : Alter-net Summer School 2012, 2012-09-06.
Genetic variation in our environment: a concern, as well as a tool box for nature management. Symposium: Biodiversiteit en Leefgebieden (biodiversity and management areas). Organized by the Dutch province of Noord-Brabant. Den Bosch, the Netherlands. Alterra-DLO. 27th November 2013.
Soil Biology. Presentation to 15-16 year olds as part of Science Week. Dote Stone. Teagasc, Ireland. 13th November 2013.
Bodemmetingen en bodemweerbaarheid. Broek op Langedijk. Dag voor praktijknetwerken. Alterra-DLO. 4th October 2013
Researchers' Night. Torino, Italy. JRC. 27th September 2013.
No place left to hide: tracking animals via their DNA. Mini symposium "DNA in the Dutch Detla", by the Dutch 'Environmental Knowledge Network" (Kennisnetwerk Milieu). Alterra-DLO, Wageningen, Netherlands, 27th September 2012. Learn more
Technological measures to maintain the fertility of agricultural soils. RTV Slovenija, National TV emmission Ljudje in zemlja, Oddaja, Slovenia. University of Ljubljana, Dr. Mihelic. 2nd Sep. 2012.
Technological measures to improve and maintain the fertility of agricultural soils - a prerequisite for sustainable farming. Consultation on the Fair Agra University of Ljubljana, Dr. Mihelic. 29th August 2012.
Rhizosphere interaction enhancing yield and Nutrient use efficiency of intercropping system. International workshop. Beijing & Gansu Province. Fusuo Zhang, Chinese Agricultural University. 28th June – 1st July 2013
EcoFINDERS - Ecological Function and Biodiversity Indicators in European Soils. A. Winding, AU, Denmark. Poster at Summer of Soil, Järna, Sweden.
Assessing and reducing trade-offs (and enhancing synergies): food production, biodiversity and ecosystem services. Joint Programming Initiative on Agriculture, Food Security and Climate Change (FACCE JPI) Broad Based Concluding Meeting, Copenhagen. L. Brussard. WU. 24th-25th June 2013
Bridging microbial community ecology and ecosystem functioning: the N-cycling example. Lecture at University of Bayreuth. L. Philippot, INRA, France. 26th April 2013
Conservation Soil Tillage in Slovenia. International Field Excursion Slovenia, Croatia, Hungary. Dr. Mihelic, University og Ljubljana, Slovenia. 21st June 2013
World Congress on Industrial Biotechnology. Montreal Canada, K. Hedlund, LU. 17th – 19th June 2013
Open day at JRC ISPRA, Italy, 4th May 2013.
Bodemmetingen en bodemweerbaarheid. Kennisdag PPO BBF. Alterra-DLO. 8th February 2013.
Is there an economic value of soil biodiversity? IV Spanish National Biodiversity Conference. U. Pascual, BC3, Bilbao, Spain 13. February 2013. Read report
---
Public stand mainly for interested kids representing the "Junior Uni" in the historic civic centre of Wuppertal
On behalf of the Junior Uni in Wuppertal PhD student Stefan Geisen presented the topic soil biodiversity within the theme "Environment" at the 150 year anniversary of the company Bayer that was held in the historic civic centre ("Historische Stadthalle Wuppertal") on Saturday September 21st 2013.
In addition to a poster presenting EcoFINDERS, soil, soil biodiversity and threats for soils/biodiversity and functions of soil organisms, the public had the possibility of studying soil organisms including bacteria, yeast and hyphal fungi, protists, nematodes and collembolan in microscopes and binoculars. A computer quiz about soil biodiversity was also available.
Children who are the focus of the Junior Uni investigated the different organisms under microscope but people from all age groups were highly interested. The event was a full success with our stand permanently being frequented; several people were not only interested in soil biodiversity, but also in EcoFINDERS itself.
---
TV show: MIHELIČ, Rok, ZUPAN, Marko, FINSGAR, Damjan, DULIĆ, Magda, MAJERIČ, Branko, 2012. Technological measures to preserve the fertility of agricultural soils (in Slovene language). Ljubljana: RTV Slovenija, Ljudje in zemlja, Oddaja TV Maribor, 2. sep. 2012. http://tvslo.si/predvajaj/ljudje-in-zemlja-oddaja-tv-maribor/ava2.144742223/.
---
The Invisible World
Creating the interest of young children for soil fauna at the Alvito school (Óbidos Municipality, Portugal)! A contribution of the Soil Ecology and Ecotoxicology lab under the EU FP7 ECOFINDERS project! It's great to see how much fun they have with those bugs!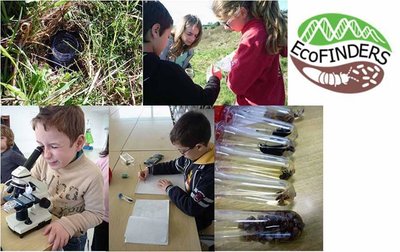 https://www.facebook.com/labsolos
José Paulo Sousa, (jps@zoo.uc.pt)
---
Suhadolc, M., 2013. Biological indicators of soil quality. In: ČEH, Barbara (Ed.), DOLNIČAR, Peter (Ed.), MIHELIČ, Rok (Ed.). New Challenges in Agronomy 2013 : proceedings of symposium, [Zreče, 2013]. Ljubljana: Slovensko agronomsko društvo, 2013, p. 50-55 (paper in Slovene language). Oral presentation.
---
Lijbert Brussaard: Assessing and reducing trade-offs (and enhancing synergies): food production, biodiversity and ecosystem services. Joint Programming Initiative on Agriculture, Food Security and Climate Change (FACCE JPI) Broad Based Concluding Meeting, Copenhagen, 24-25 June 2013
---