SmartSOIL results presented at The 11th European IFSA Symposium
Read the SmartSOIL and Catch-C presentations here.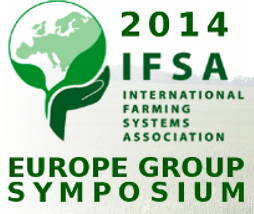 SmartSOIL and Catch-C partners convened a workshop session at the International Farming Systems Association (IFSA) Symposium: Farming systems facing global challenges: Capacities and strategies. Berlin, 1-4 April, 2014.
SmartSOIL partners Julie Ingram (CCRI), Ana Frelih-Larsen (Ecologic) and Catch-C partner Jan Verhagen convened the workshop:'Soil management: facilitating on-farm mitigation and adaptation'.
Sandra Naumann (Ecologic) chaired the presentations and Jane Mills (CCRI) facilitated the plenary discussion.
The following papers were presented in the workshop:
For abstracts see http://project2.zalf.de/IFSA_2014/documents/ifsa-2014-berlin-book-of-abstracts.pdf