A new plant-based fuel can replace fossil fuels in vehicles
We are now taking a great step towards a future based on renewable energy. The research alliance BioC4 works on a project that will enable an effective production of isobutanol – a sustainable plant based fuel that can be used in existing engines for vehicles.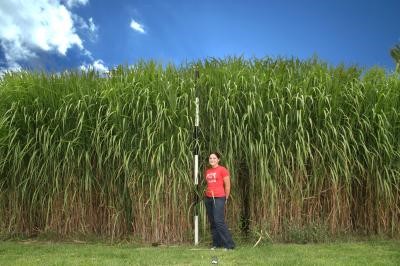 Climate change and the consequent increased demand for renewable materials is a story we have heard over and over again. Both the chemical industry, the transport sector and the agricultural sector need to reduce the climate impact but still increase revenue. But how do we meet this challenge? A new research project, entitled BioC4, aims to solve this puzzle. The project is funded within the frame of FACCE SURPLUS.
Biofuel used in existing engines
The project partners work on developing a transportation fuel with low greenhouse gas emission without compatibility issues with existing engines. The focus of the project is the powerful plant-based alcohol bio-isobutanol, which has an energy density close to gasoline - and which through new technologies has the potential of replacing gasoline and other fossil based products.
Unlike previous projects BioC4 will produce isobutanol from the miscanthus plant that is a high-yielding, non-food crop, thus considered a great biomass resource.
Existing projects on isobutanol production face many problems such as low yield and high costs which prevent large scale production. Moreover, the existing technology is still completely based on sugar from food materials rather than biomass like waste or energy crops.
- Focusing on growing miscanthus only in areas where traditional agriculture is difficult ensures no competition between food and fuel production, Mrs. Perrine Bieth who is the project coordinator of BioC4 explains.
She continues:
- If the isobutanol production works on miscanthus biomass, the process can be easily adapted to several other biomasses, including straw.
Besides being an ideal biofuel, isobutanol can also be mixed with diesel, which can potentially pave the way for improvement of the GHG performance of diesel vehicles compared to biodiesel routes. Furthermore it can be used for bio-based raw materials and create a new income for farmers.
BioC4 is a collaborative project between Lesaffre, INRA, GlobalYeast and Frankfurt and Hohenheim Universities. These private and public European partners aim to develop an industrial isobutanol production process within a three year period. The project has been granted 944,000 € from the FACCE SURPLUS ERA-NET Cofund.
Info Miscanthus
Miscanthus is a grass with low dependence on fertilizers and phytochemicals, a long growing season and late harvest after winter. After establishment of the crop in the first year, miscanthus can be characterized as a low input crop that delivers stable yields for more than 20 years. Currently, miscanthus is used as an energy or industry crop and is not used for feed or fodder production. Therefore, miscanthus could be grown on polluted soils, which are unsuitable for food or fodder production.
FACCE SURPLUS
FACCE SURPLUS is an ERA-NET under the Cofund scheme of Horizon 2020 of the European Union. FACCE SURPLUS calls for collaboration among 15 countries and the EU for transnational research projects on the thematic area of sustainable and resilient agriculture. Further joint activities that go beyond this co-funded call are planned
---
Further information
M. Pascal Vandeckerckove
Lesaffre International, France
Email: pvk@lesaffre.fr