rethinkIMPACTS 2017 was the title of Aarhus University's and Aarhus 2017's joint project, which contributed to Aarhus as the European Capital of Culture 2017 with a range of research activities.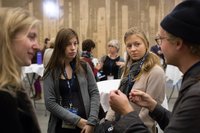 Aarhus University and Aarhus 2017 signed a strategic partnership agreement in 2013 including also Aarhus Municipality and the Central Denmark Region in the collaboration. The main focus of the partnership was to conduct research and evaluation connected to the European Capital of Culture project at all stages of the process until the end of 2018.
The research-based evaluation focused on the six strategic objectives in the bid book and how they were developed and interpreted during the process.
The evaluation of Aarhus 2017 covered the following tasks:
Clarification of the objective of the evaluation.
Co-development of Aarhus 2017's own monitoring with a view to ensuring data quality and data coverage.
Development of evaluation criteria in close collaboration with a variety of different stakeholders.
Prioritisation of the various elements of the evaluation in collaboration with key stakeholders.
Preparation of study design for the different sub-evaluations.
Collection and processing of data.
Reporting, in part on an ongoing basis as a contribution to ensuring that the evaluation resulted in a learning outcome, and partly in the form of a final, joint evaluation report.
The aim was to carry out an evaluation which not only provided retrospective documentation for the effects of Aarhus 2017, but which also promoted learning throughout the process. This was achieved through the presentation of relevant results as well as through workshops, etc., at which the various stakeholders were brought together in order to discuss the design of the evaluation as well as their experiences.
Conferences
As part of the strategic partnership agreement, international conferences were held in 2013, 2015, 2017 and 2018 in which both researchers and practitioners participated.
The Rethink Participatory Citizenship conference in 2013 thematised democracy, Aarhus 2017's core value, while the theme of RE-DO in 2015 was sustainability (the second of Aarhus 2017's three values).
The third conference, RE-Value: Rethinking the Value of Arts and Culture, took place from 8-11 November 2017. The conference focused on methods for analysing and evaluating the effects of culture, the core of the evaluation project. This conference was also the annual conference in UNeECC, an international network of universities in European Capitals of Culture.
The final conference rethinkIMPACTS 2017 was held in 2018 with the primary aim to present the final evaluation report.