Septoria fungicide resistance development and spread can be reduced through good management
New data from EuroWheat on CYP51 mutations related to fungicide resistance in Europe is now available.
The problem
Septoria tritici blotch (STB) of wheat caused by the ascomycete fungus Zymoseptoria tritici is one of the most yield reducing pathogen in wheat production in Europe (ref).
In conventional wheat production four main groups of fungicides are used for control of the disease:
Quinone outside inhibitors (QoI),Strobilurins
Sterol 14α-demethylation inhibitors (DMI), Azoles
Succinate dehydrogenase inhibitors (SDHI) and
Multi-site inhibitors.
Over the last years, several cases of gradual decline in field performance of these fungicides have been reported in Europe (Blake et al., 2017). A continuing decline in field performance of azoles have been reported and Septoria isolates with reduced sensitivity to SDHIs are now believed to be widespread in the UK and Ireland. Even the efficacy of the azoles to control Septoria has decreased to 40-60%, the azoles are still important mixing partners with the SDHI minimising the risk of resistance development to this group of fungicides. The Azoles also have good efficacy to control other wheat leaf diseases e.g. yellow rust caused by Puccinia striiformis (Jørgensen et al., 2018).
Currently the SDHIs are the only fungicides left that efficiently control Septoria, but based on the mode of action, the risk of pathogen resistance development is high. Therefore, there is an urgent need to implement anti-resistance principles such as the use of appropriate doses, alteration between different modes of action and mixtures, and reducing the total number of treatments per season to a minimum (Heick et al., 2017).
Test of new fungicides
The principles of Integrated Pest Management (IPM) and the continously monitoring of pathogen resistance to specific groups of fungicides is a part of several projects and initiatives e.g. EuroWheat, EURO-RES and Norbarag.
During the period 2015-16 in total 40 trials were carried out in the EuroWheat project. Attack of Zymoseptoria tritici varied considerably across Europe but the following conclusions were made from these experiments:
Azole mixtures (Osiris and Prosaro) performed most stable across all trials.
Epoxiconazole and prothioconazole gave as an average of 23 trials 60-68% control; Covering a variation from 10-95% control between sites and countries. Lower efficacy from the two products were seen in France, Ireland, UK and Belgium.
Metconazole and tebuconazole performed similarly moderate but with better effects at sites located in France, Ireland, Belgium and UK.
Some clear links between EC50, CYP51 mutations and efficacy was seen – but not in all cases!!
Data from 2015 and 2016 are published in Crop Protection (Jørgensen et al., 2018).
In the frame of EuroWheat, in 2017 11 EU trials for control of Septoria were carried out. A new azole (Revysol) showed significant better control than the old azoles. As shown in Fig 1.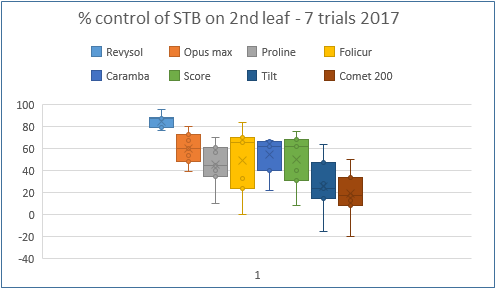 Figure 1. Test of eight different fungicides from the group of Azoles across six countries in 2017 (EuroWheat project, unpublished)
Fungicide resistance monitoring in Europe
The distrubution and evolution of fungicide resistance is monitored across years and countries in several international initiatives. Maps and charts are available on EuroWheat about the evolution of mutations resulting in reduced sensitivity of azols. From these results it is clear that fungicide resistance related to control of Septoria is an increasing problem in parts of Europe. See the interactive mapping tool with updated data for 2017 here
Increasing problems with SDHI resistance in Europe
SDHIs remained highly active against septoria in most parts of Europe. Ireland have seen lower efficacy from SDHI product in field trials and there is increasing evidence of mutant strains with reduced sensitivity (e.g. C-T79N. C-H152R). Septoria isolates with reduced sensitivity to SDHIs are now believed to be widespread in the UK and Ireland (AHDB conference 2017). Research, funded by AHDB in UK and fungicide manufacturers has demonstrates clearly that resistance development and spread can be slowed down through good management.
Recommendations
In UK a list of recommendations has been given on antiresistance strategies and these are considered applicable for all Europe. Heick et al., 2017 also discuss anti-resistance strategies with focus on DMI fungicides.
Further information
Source of this news: eurowheat.au.dk
Jørgensen et al., 2018. Four azoles' profile in the control of Septoria, yellow rust and brown rust in wheat across Europe. Crop protection vol 105. https://doi.org/10.1016/j.cropro.2017.10.018
Heick et al., 2017. Anti-resistance strategies for fungicides against wheat pathogen Zymoseptoria tritici with focus on DMI fungicides. Crop Protection vol 99. https://doi.org/10.1016/j.cropro.2017.05.009
Blake, J. J., Gosling, P., Fraaije, B. A., Burnett, F. J., Knight, S. M., Kildea, S. and Paveley, N. D. (2017), Changes in field dose–response curves for demethylation inhibitor (DMI) and quinone outside inhibitor (QoI) fungicides against Zymoseptoria tritici, related to laboratory sensitivity phenotyping and genotyping assays. Pest. Manag. Sci, 74: 302–313. doi:10.1002/ps.472
AHDB conference 2017: Low resistance risk fungicide programmes must become the norm
FRAG-UK / AHD: Top tips to manage fungicide resistance in Septoria
Contact
Lise Nistrup Jørgensen
Aarhus University, Department of Agroecology
lisen.jorgensen@agro.au.dk
Phone: 87158234