Archaeologists reveal the history of mosaics
New insight into mosaics production in the Early Islamic Period.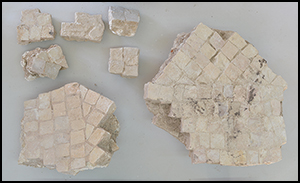 For the first time ever, the development of ancient mosaics has been systematically documented. In a newly published article, archaeologists Achim Lichtenberger (Westfälische Wilhelms-Universität Münster, Germany) and Rubina Raja (Aarhus University, Denmark) provide evidence of the chain of production and craftmanship related to mosaic-laying during the Early Islamic Period. The unique find stems from six years of intense excavation in Jerash, Jordan, the former Decapolic city known as Gerasa.
For more than 100 years, the site of Gerasa has been an area of interest for archaeologists. Over the years, excavation teams from all over the world have uncovered bits and pieces of mosaics, but until now, no one has been able to piece together the puzzle of the ancient practice. However, the careful excavation of a house – which was destroyed as a result of an earthquake in AD 749 – in combination with state-of-the-art dating methods and chemical analyses of excavated mosaic fragments, reveals the remarkable modifications made to the mosaic floors over time, thus shedding light on historical changes in both the materials used and the technical processes applied. Furthermore, evidence of mosaic storage facilities suggests that craftsmen installed temporary workshops in connection with restorations rather than permanent ones.
This brand-new insight into the construction of mosaics in Gerasa is a first, and future investigations of similar structures are expected to add to our understanding of the development of mosaics throughout the ancient world.
For more information, contact Rubina Raja (rubina.raja@cas.au.dk) or Achim Lichtenberger (lichtenb@uni-muenster.de).
Link to article (open access): https://www.cambridge.org/core/journals/antiquity/article/mosaicists-at-work-the-organisation-of-mosaic-production-in-early-islamic-jerash/AAA71C710D69A70A32294C133FC6B07B
Citation: Lichtenberger, A. and Raja, R. (2017). Mosaicists at work: The organisation of mosaic production in Early Islamic Jerash. Antiquity 91:358, 998–1010.
Websites:
Danish-German Jerash Northwest Quarter Project: http://projects.au.dk/internationaljerashexcavation/
Ceramics in Context: http://projects.au.dk/ceramics-in-context/
Centre for Urban Network Evolutions: http://urbnet.au.dk/
Danish version of press release (Carlsbergfondet): http://www.carlsbergfondet.dk/da/Nyheder/Nyt-fra-fondet/Nyheder/Forskning-stoettet-af-Carlsbergfondet-afsloerer-mosaikkens-historie
Link to the Danish National Research Foundation: http://dg.dk/2017/08/09/centerleder-rubina-raja-bag-den-foerste-systematiske-dokumentation-af-mosaikproduktionen-i-den-tidlige-islamiske-periode/