Project status & outreach seminar 'Sustainable crop and agricultural production (including circularity) for the future'
The six projects of the 3rd FACCE SURPLUS Call and the eight projects of the 2nd SusCrop Call will have a joint status seminar meeting on February 7-8, 2023 in Ghent and Merelbeke, Belgium. The projects' status seminar is followed by an outreach seminar on 'Sustainable crop and agricultural production (including circularity) for the future'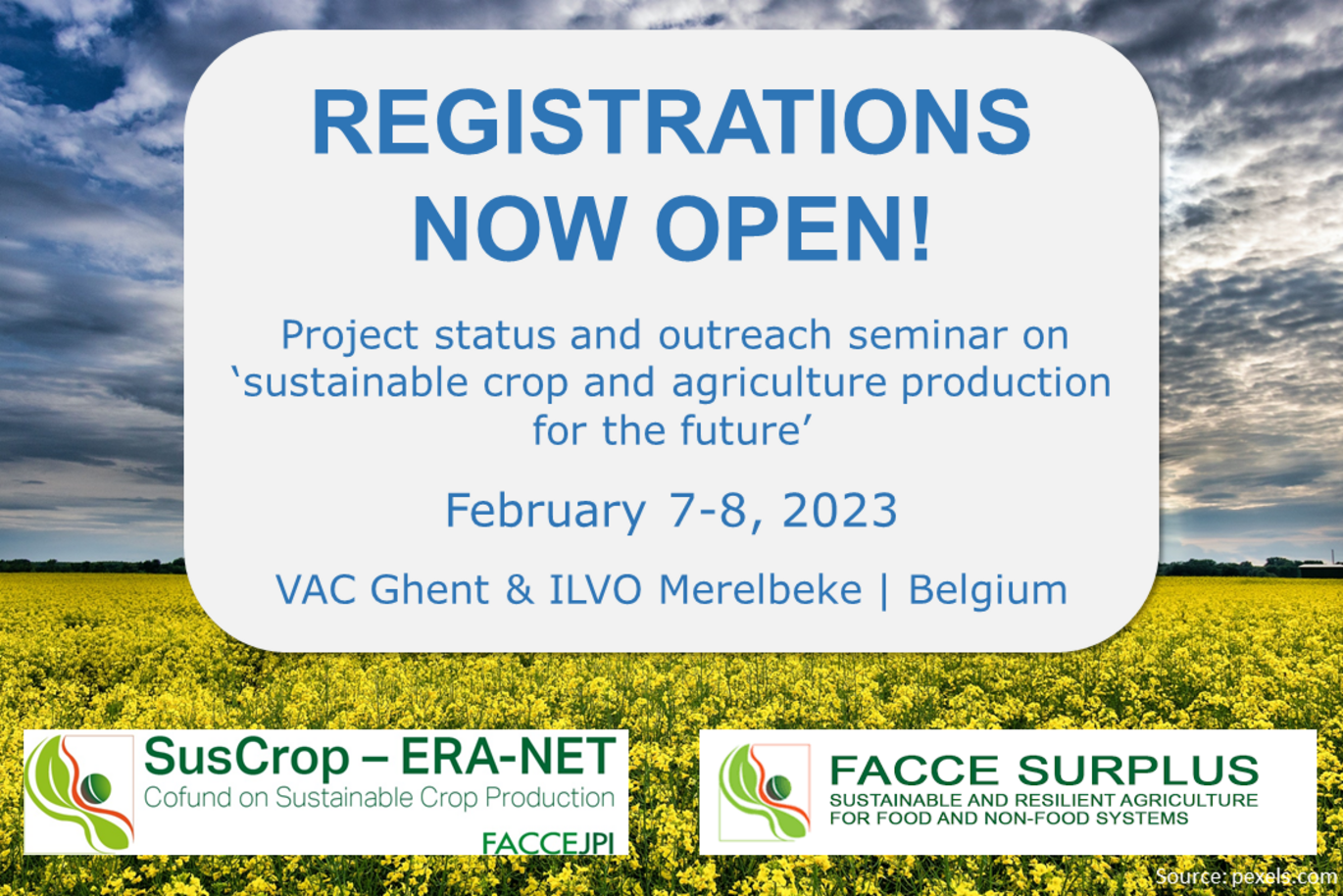 Info about event
Time
Tuesday
7

February 2023,

at 08:00
- Wednesday
8

February 2023,

at 14:00
During the status seminar, the coordinators of the research projects will present their progress and achievements. Results and outcomes will be closely discussed with direct stakeholders of the projects and external stakeholders who will benefit in the long-term.
In the workshop 'sustainable crop and agricultural production for the future', we aim to discuss with the stakeholders of the SusCrop and FACCE SURPLUS projects and beyond, the potential of disruptive technology in the activities of 'the 12 farmers of the future': According to the report by the JRC (the European Commission Joint Research Centre) and DG AGRI (the Directorate-General for Agriculture and Rural Development)" the farmers of the future will be very diverse. The fact that only 5,6 % of the European farmers are younger than 35 years, the enormous challenges that farmers face, and the disruptive innovations in agriculture and food, suggests that 'the farmer of the future' will diversify and change significantly. At the outreach seminar we will discuss what R&I has brought to the farmers, how to adopt new technologies and what the future needs of 'the 12 farmers of the future' are.
Thus, the event will be open to any groups of stakeholders, who are interested and would like to contribute to 'Sustainable crop/agricultural production for the future' in Europe.
In addition to the scientific parts of the meeting, the event in Ghent and Merelbeke will also include an excursion, social and cultural event to offer networking opportunities between all stakeholders.