Webinar on United Nation's Goal 11: Sustainable Cities and Communities
Thursday 26 August 2021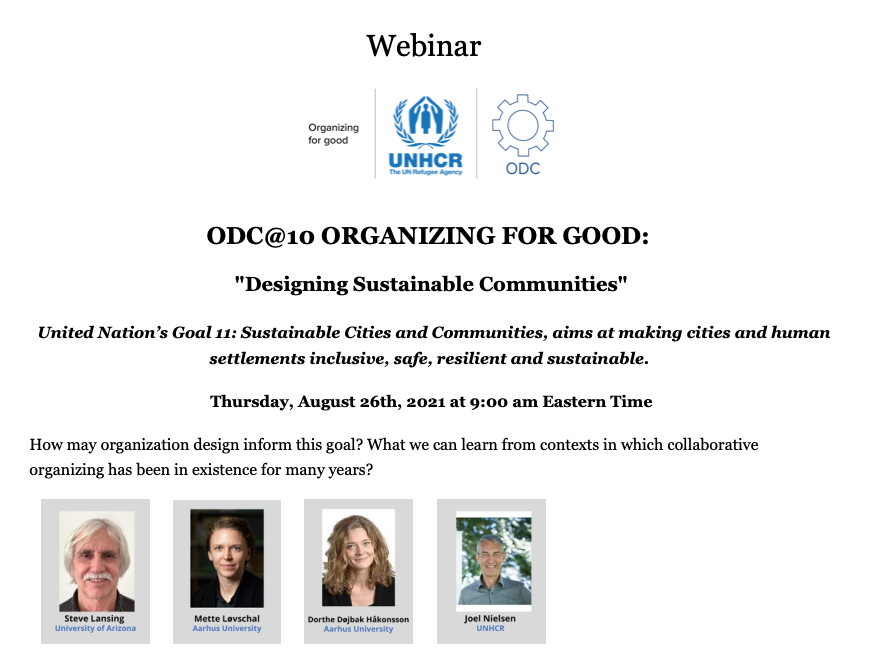 ODC@10 ORGANIZING FOR GOOD:
26. august 2021
"Designing Sustainable Communities"
United Nation's Goal 11: Sustainable Cities and Communities, aims at making cities and human settlements inclusive, safe, resilient and sustainable.
How may organization design inform this goal? What we can learn from contexts in which collaborative organizing has been in existence for many years?
This panel will dig into what constitutes the organizing principles of sustainable communities. In other words, what can we learn from collaborative organizing that may serve to achieve UN goal 11?
The discussion will be focused on two issues:
1. 'Nature's way' of organizing and what we as human organizers can learn from that. Both Mette and Steve have studied communities where members have lived in an integrated fashion with their landscapes over hundreds of years – and the linkages that have arisen from it;
2. Taking it forward: How to build sustainable communities afresh in contexts that are very different from the communities the academic panellists have studied.
The panel will have two academic panelists and one panelist from the UN (TBA):
Steve Lansing: Steve is especially known for his decades of research on the emergent properties of human-environmental interactions in Bali, Borneo and the Malay Archipelago, social-ecological modeling, and complex adaptive system. He is anthropologist and complexity scientist. He is an external professor at the Santa Fe Institute and the Vienna Complexity Hub, an Emeritus professor of anthropology at the University of Arizona, and a senior research fellow at the Stockholm Resilience Centre.
Mette Løvschal: Mette is an archaeologist and has examined the temporal and social dynamics involved in the ongoing fencing processes in Maasai Mara, as well as social issues related to shoats keeping in Eastern Africa. She was recently rewarded an ERC grant for her project: Anthropogenic Heathlands: The Social Organization of Super-Resilient Past Human Ecosystems.
Watch Mette Løvschal's panel presentation here