Historical Women Take the Streets of Geneva: Restoring the Legacy of International Organizations' Working Bees
Pamela Ohene-Nyako, Laure Piguet, Myriam Piguet, PhD Fellows in History, University of Geneva
Like in most European cities, the gender balance of street names in Geneva reflects the inequality of its society: only 7% of them are named after women.[1] During the summer of 2018, L'Escouade, a feminist collective based in Geneva, came up with the project 100Elles*, which aims to raise awareness about the absence of women in Geneva's street names and the associated lack of feminine experience in the numerous ways the city's history is told. The collective proposed to select no less than one hundred women who shaped the history of Geneva, and whose contributions would be acknowledged through alternative street signs placed under the official ones. The idea was directly inspired by recent projects in several other European cities, including Brussels since 2015 and Paris on the occasion of 2019's Women International Day. However, L'Escouade expanded on this initial idea, turning it into a genuine public history project, through biographies made available on the project's website and guided tours throughout the city. The project was made possible thanks to the support of the City of Geneva.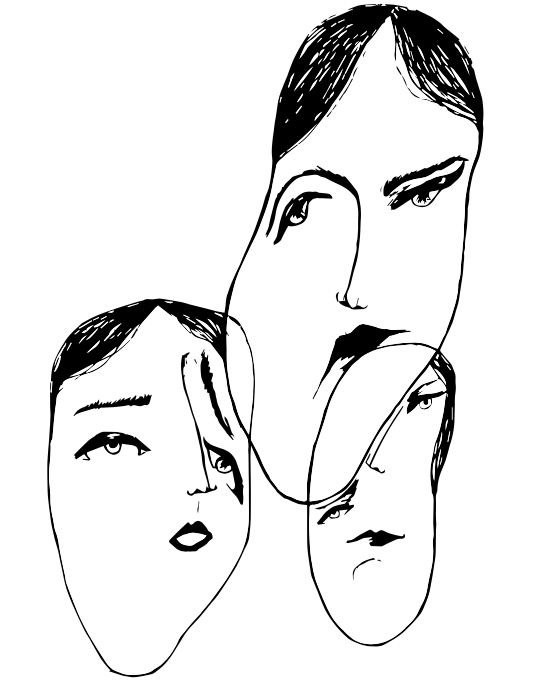 Artwork from the 100Elles* website
The selection process
In order to do this, L'Escouade brought the project to various historians from the University of Geneva, who were invited to take part, to select the women and to compile their biographies. Naturally, their project piqued the interest of many scholars – all female – specialized in a plethora of fields and covering periods from the middle ages to the 20th century.[2] Thanks to these diverse backgrounds, selecting the women ended up being a very exciting (and time consuming) experience. To demonstrate that women are not absent but rather side-lined from history, the project committed to Geneva's official street name rules, i.e. "the chosen individual needs to be dead for at least ten years and must have had an enduring footprint on the history of the city" – a criterion that left plenty of room for interpretation. We met several times to choose the personalities and, rather unsurprisingly, we could have chosen many more than a hundred. Although often neglected, there are countless women who made the history of Geneva what it is.
Geneva, with its overlapping local and international history, due to the city's role in the evolution of international diplomacy and international organizations (IOs), has a wide array of potential candidates to choose from. Naturally, the project includes women that took part in these developments and particularly in the establishment of the League of Nations (LoN) and the International Labor Organization (ILO), both in the district of Nations and Paquis – home to the Palais des Nations and Palais Wilson. However, one of our primary goals was to demonstrate the diversity of experiences, not only in terms of origins and time period, but also with regard to social backgrounds. In addition to the well-known women that made up the Genevan world, such as Alexandra Kollontai, Florence Wilson and Dame Rachel Crowdy[3], therefore, we selected women that can be qualified as "working bees". Not as well-known, they were nonetheless undeniably essential to the functioning of international cooperation. Introducing them through the 100Elles*'s project, we expose the neglect of women's accomplishments in Genevan history and public spaces and restore their legacy. Selecting personalities and compiling their biographies raised many questions: How are women represented in history? What are the challenges of writing women's lives? And how can we translate historical knowledge to the general public? In this blog post, we introduce three of the remarkable women we selected and briefly discuss these challenges.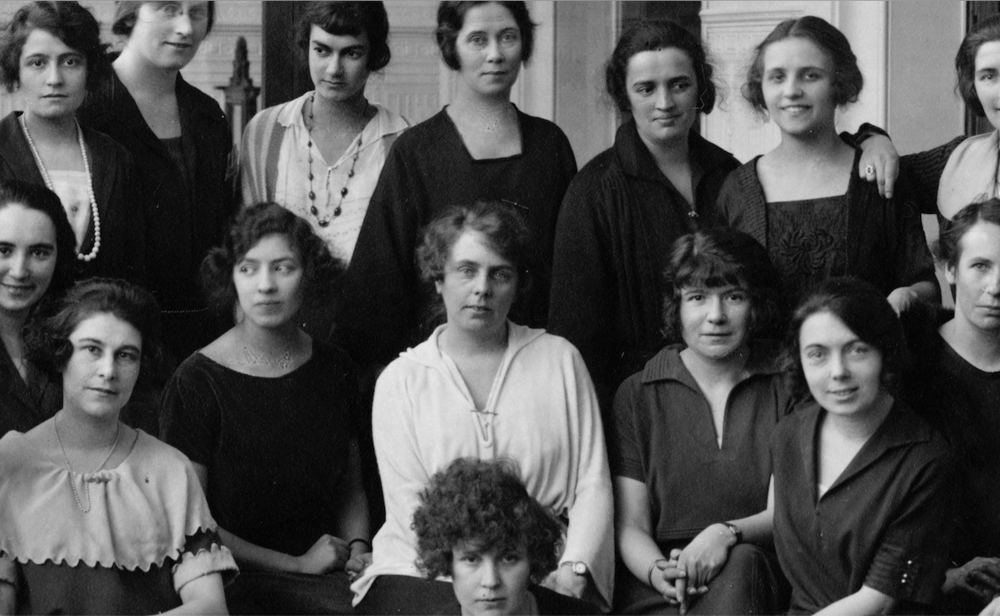 "Working bees" from the Pool of Shorthand typists, with Julienne Piachaud in white in the middle.
Julienne Piachaud: Head of the Stenographic Service of the Secretariat of the League of Nations (Quai Wilson – Paquis):
From 1922 to 1941, Julienne Christine Mayras-Piachaud was the head of the Stenographic Service of the Secretariat of the League of Nations.[4] Born on the 26 September 1894 in Ivry-Sur-Seine, a municipality close to Paris, she arrived in Geneva in 1920 to take up a job as stenographer for the Secretariat. Previously, she had been trained as a stenographer in France and worked as a personal secretary in her city of origin. In 1922, she became the head of the largest service of the League's Secretariat at the young age of 27. Exclusively feminine, it was composed of more than 50 employees in 1932 and was essential to the Secretariat's administration. This being said, reading through her relatively limited personal file, we find that she was paid 2.750 francs less than her male colleagues, despite holding an equal position. As chief, Julienne Piachaud handled her service with a firm hand, even though it had a reputation among the League's Directors of being somewhat more turbulent than others, often referring to issues considered specific to women. Her personal files reveal that she always protected her employees when disputes arose with other sections and services.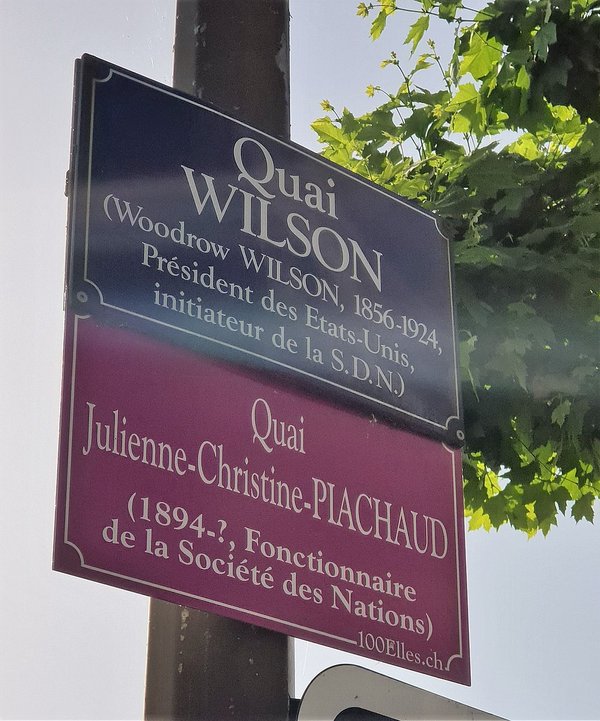 Quai Julienne-Christine-Piachaud: a part of the machinery Wilson envisioned
What is striking with Julienne Piachaud's story is not the fact that her professional role in the Secretariat has been mostly forgotten, partly due to the long-standing focus of historians on the League of Nations' diplomatic role to the detriment of the administrative system. Rather, it is that in contrast, her husband, René-Louis Piachaud, clerk at the League's Secretariat, has not been forgotten. As a modest but recognized writer, a street was named after him in the Geneva's Plainpalais district,[5] even though he was a controversial character. Because of his participation in the newspaper le Pilori directed by Georges Oltramare – a Genevan politician who later collaborated with Nazi-Occupied France – he is sometimes accused of proximity with the Geneva's fascist movement.[6] Today, the city archives hold almost 5 meters of material on René-Louis Piachaud, in which Julienne Piachaud seems to be completely absent.[7] So much so that we have not been able to assess where Julienne Piachaud went after the death of her husband in 1941, nor the date of her death.
Elna Palme Dutt: Statistician, Translator and Senior Editor at the International Labor Office (Avenue de la Jonction – Jonction)
From 1921 to 1951, Elna Palme Dutt was successively statistical clerk, translator and senior editor at the International Labor Office (the Office), the secretariat of the ILO.[8] A graduate in mathematics and economics from the University of Cambridge in the 1910s, Palme Dutt began her career as a statistical research assistant at the London School of Economics. There, she worked under the authority of Arthur Bowley, professor of statistics and economics. During the First World War, she lost her position, presumably due to budget restrictions. She was then employed as an assistant at the Statistical Office of the London Underground and Omnibus Combine. Later, she worked as a translator for the economic supplement of a military review. The few archival materials at our disposal over this period – her curriculum vitae – were not sufficient for us to establish the reasons for her shift from statistics to translation.

Elna Palme Dutt (date unknown)
In December 1920, she passed the ILO's translator examination. But, due to the lack of available posts in the Translation Service, she was first engaged as a statistical clerk; a job far below her scientific qualifications. Despite her university training, her daily activities consisted in collecting and compiling national statistical data. Discontent with her placement, she asked to be promoted to the grade of translator. The request sparked harsh criticism from her supervisors ("she is a slow worker and lacking in initiative"; "not very successful in the Statistical Branch"). Nonetheless, in November 1921, she was transferred to the Translation Section and finally granted a permanent contract in January 1922. Still, she was appointed at a lower salary than her colleagues (male and female), but refrained from complaining, "not wishing to continue the controversy with regard to her status in the Office". In 1940, she was transferred to the Editing Service. Finally, her skills seem to have been put to good use, although she had to argue for her new function of senior editor of the International Labor Review to be officially recognized. In her opinion, this lack of recognition prevented her from benefitting from diplomatic status, exposing her to several otherwise avoidable difficulties.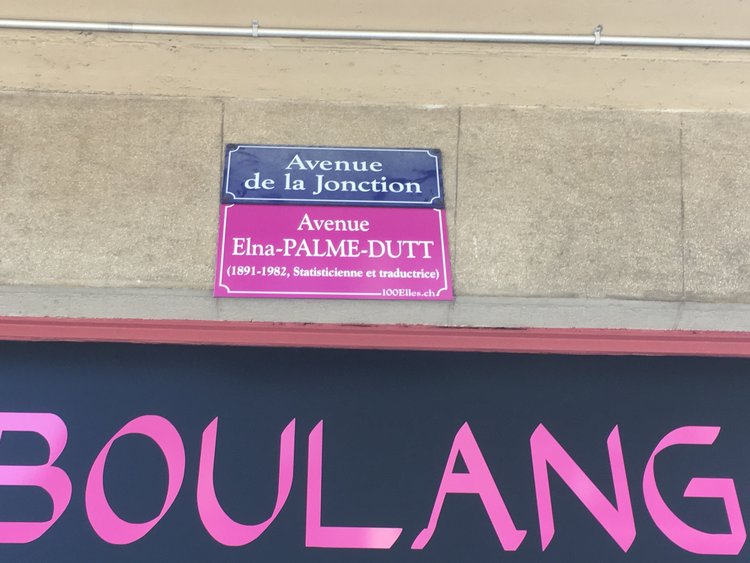 Avenue Elna-Palme-Dutt (1891-1982, Statisticienne et traductrice)
Compiling Palme Dutt's biography was a complex task. The only archives at our disposition was her personal file at the ILO, in which her written demands mix with negative comments from her male superiors. Her file gives the impression that she is an annoying person, never satisfied and always grumbling about her working situation. While this might be true, the few studies about women at the ILO in the interwar period that exist[9] reveal that Dutt's experiences were far from unique and part of a broader pattern. Indeed, Palme Dutt's experience demonstrates the intertwining between women's personal trajectories and their living in a social reality dominated by men inside IO machineries. As the historian Françoise Thébaud argues, women performing intellectual tasks – thus escaping the traditional gendered division of labor – were often low-ranked and low-paid at the ILO despite their high degree of qualification. Furthermore, their demands and grievances were generally discounted due to their feminine character.[10] Primarily selected for 100Elles* to represent the very few women in "hard" sciences, Palme Dutt's biography unveils a complex professional trajectory. Her experience is a typical example of the many obstructions women faced while they were trying to build a career in an IOs in the interwar period.
Una Marson: Writer, Journalist, and Social Justice Activist (Rue de Montbrillant – Nations):
Una Marson's life, work and political thinking has been used by contemporary historians in order to rectify historiographies of pan-Africanism, internationalism and feminism that remain mostly centered on black men and/or white/Western women. Marson's biography is particularly insightful on the ways these movements intersected for some of their protagonists.
Marson was a black Jamaican poet, playwright, journalist, broadcaster, and social justice activist. She was born in 1905 in Santa Cruz at a time when Jamaica was a British colony. Like other black female activists and internationalists, throughout her life, Marson navigated the trials of seeking personal accomplishment, a public voice and independence as a black Jamaican woman.[11] In 1928, she founded The Cosmopolitan and became Jamaica's first black woman editor and publisher. She used the magazine as a public platform to address social issues, such as women's public emancipation and the living conditions of the underprivileged classes, from a reformist and liberal perspective. The Cosmopolitan also promoted the country's literary scene. A writer herself, she published her first book of poetry, Tropic Reveries, in 1931 and her first play, At What a Price, also in 1931. The critical acclaim she received, together with the limited prospects Jamaica offered for her literary career, prompted her to move to Britain in 1932.
In London, as a result of experiencing interpersonal racism and racial discrimination in job searching, she joined the League of Colored People (LCP) that was chaired by Harold Moody. She first became the LCP's unpaid assistant-secretary, then its spokeswoman and, in 1934, the editor of its journal The Keys. Her involvement in the LCP as well as her encounters with mainly male intellectuals from the Caribbean and West-Africa raised her awareness of pan-Africanism.[12] In parallel, she also joined international women's associations such as the British Commonwealth League and the International Alliance of Women for Suffrage and Equal Citizenship (IAWSEC) which had close links with the League of Nations.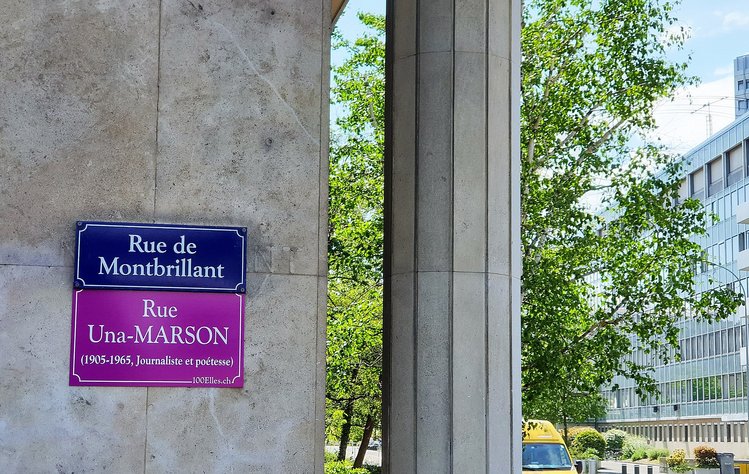 Rue Una-Marson (1905-1965, Journaliste et poétesse)
In 1934, she was a speaker at the IAWSEC's 12thAnnual Congress in Istanbul and positioned herself as the representative of all black people in the world. The mediatization and acclaim of her public intervention in Istanbul drew the attention of Joseph Avenol, the LoN's Secretary-General, who invited her to Geneva to learn about the organization. Marson was thrilled by the invitation – as she considered herself to be the first person of African descent to be invited by the LoN[13] – and spent three weeks in Geneva in September 1935 as a paid temporary "collaborateur". At that moment, the Abyssinian crisis was highly debated in the organization. The latter context pushed Marson to get in contact with the head of the Abyssinian delegation, Tekle Hawariat, who suggested that she become the secretary of the Abyssinian minister in London, Charles Martin. By the time Marson got back to London, the war had started.
As the Abyssinian Legation's secretary, Marson first had to read and familiarize herself with the country's history, geography and political situation. She played a fundamental role in typing all the Legation's correspondence, replying to journalists' and popular enquiries on the war, and giving public lectures on the matter. In June 1936, she met the Abyssinian emperor, Haile Selassie, who was in exile in London as a result of his abdication. She joined him as his personal secretary when he traveled to Geneva to make his final plea to the LoN. Witnessing how the LoN failed to intervene in favor of Abyssinia, and how Britain withheld from sanctioning Italy properly, Marson got disillusioned with the organization and Britain's potential for progressive policies.[14] Back in London, the beginning of a nervous breakdown pushed her to return to Jamaica.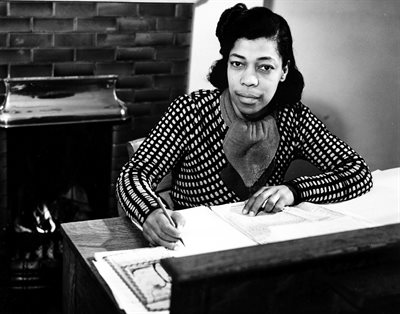 Una Marson at work (BBC Photo Library)
Once healed and settled in Kingston, Marson resumed her writing, as testified by her play Pocomania, and got involved in social work. From 1941 to 1946, she was back in London and became the BBC's first black female journalist and producer. Until her death in 1965, she navigated between the Caribbean, Britain, the USA and Israel, and continued her pioneering work in broadcasting, writing, promoting Caribbean literature, and social justice.
The female internationalist experience retrieved
Julienne Piachaud, Palme Dutt, and Una Marson's trajectories disclose the challenges women faced in international arenas during the interwar years. Furthermore, because of their subordinate positions, they provide an insight into IO machineries and what was happening behind the scene. If their opportunities were greater in IOs than in national diplomacies and administrations, they still faced many difficulties directly connected with their gender. This being said, their mere presence was enough to pave the way for future generations. The women we selected for this blog post are just a few examples of women who shaped the history of IOs and diplomacy. Many others exist, such as Gabrielle Radziwill, Fröken Forchhammer, Annie Jiagge, or Julia Hendersen, to name but a few.[15] We hope the 100Elles* project will inspire historians to further examine women's roles in their respective fields and, more importantly, to share their findings with the general public and begin to restore women's legacies.
References
[1] To be exact, currently 548 streets are named after men and only 41 after women.
[2] We are seven historians fully included in the project with specialization covering fields as follow: Cultural history, gender and religion in early modern Europe (Daniela Solfaroli Camillocci – Associate Professor); History of Christianity and cultural history in modern Europe and America (Sarah Scholl – Assistant Professor); Cultural history and history of masculinity in Middle Ages (Anne-Lydie Dubois – PhD Fellow); history of labor, History of Statistics and history of International Organizations in modern history (Laure Piguet – PhD Fellow); history of African Diasporas and Social Movements in modern Europe (Pamela Ohene-Nyako – PhD Fellow); Modern history of sciences and Turkish and Balkan studies (Caroline Montebello – PhD Fellow); History of Women and history of International Organizations (Myriam Piguet – PhD Fellow). Additionally, various historians took part in the project to write specific biographies.
[3] Alexandra Kollontai (1872-1952) was among other things the USSR's Ambassador in Sweden and the LoN, Florence Wilson (1884-1977) was Chief Librarian at the League of Nations, and Rachel Crowdy (1884–1964) was head of the Social and Opium section in the League of Nations. You can find their respective biographies on our website.
[4] All the information about Julienne Piachaud come from her LoN's personal file (Julienne Piachaud, file 2825, in League of Nations' Archives, Section files, Personnel files, box S. 854bis, B. 65/ Shelf 56.)
[5] http://ge.ch/noms-geographiques/voie/geneve/rue-rene-louis-piachaud .
[6] Fond René-Louis Piachaud, CH BGE Ms. fr. 6361-6410, Ms. fr. 8189-8191, Archives of the City of Geneva.
[7] Ibid.
[8] All the information about Palme Dutt was gleamed from her ILO personal file ("Miss P. Dutt", in International Labor Office Archives, Dossier du service du personnel, P. 304).
[9] Thébaud, Françoise, « Le genre de l'OIT. Place des femmes dans les organes représentatifs, hiérarchie sexuée des emplois et politiques genrées de justice sociale », in Le mouvement social, n° 263, 2018, pp. 93-108 ; Riegelman Lubin, Carol, Winslow, Anne, Social Justice for Women. The International Labor Organization and Women, Durham and London, Duke University Press, 1990.
[10] Thébaud, Françoise, « Le genre de l'OIT… », op. cit., p. 101.
[11] In addition to Macauley's biography, see Umoren, Imaobong D., Race Women Internationalists. Activists-intellectuals and Global Freedom Struggles, Oakland, University of California Press, 2018.
[12] Jarrett-Macauley,op.cit., pp. 68-73.
[13] Papers of Margery Corbett Ashby, MICA, Fawcett Library, London. Cited by Jarrett-Macauley, op.cit., p. 88. Marson is very unlikely to have been the first person of African descent invited by the LoN, but this information speaks of her self-perception as it is drawn from her correspondence.
[14] Jarrett-Macauley,op.cit., p. 104.
[15] Gabrielle Radzwill (1877-1968) was in charge of the communication with women international organizations at the League of Nations ; Fröken Forchhammer (1863-1955) was vice president of the International Council of Women and Danish Delegate in the Technical Committee of the League of Nations ; Annie Jiagge (1918-1996) was the main author of the draft of the UN convention for the elimination of discrimination towards women (1967) and was in high positions in a number of UN and international church bodies; Julia Hendersen (1915-2013) was Director of Bureau of Social Affairs of the United Nations.
Images
Julienne Piachaud: The Pool of Shorthand Typists, League of Nations Archives (LoNA), n.d., Geneva, Switzerland.
Piachaud street: https://commons.wikimedia.org/wiki/File:100elles_Julienne-Christine_Piachaud_-_Quai_Wilson.jpg
Palme Dutt: The National Archives (United Kingdom) KV 2_3668
Palme Dutt street: https://commons.wikimedia.org/wiki/File:100elles-20190624_Avenue_Elma_Palme-Dutt_-_Avenue_de_la_Jonction_160810.jpg
Marson street: https://commons.wikimedia.org/wiki/File:100elles-20190524_-_Rue_Una_MARSON_-_Rue_de_Montbrillant.jpg
Una Marson: https://www.kcl.ac.uk/artshums/ahri/eventrecords/2017-2018/Festival/Thu19/Caribbean-Voices-Una-Marson-at-the-BBC