Pre-announcement of second transnational call
C-IPM has pre-announced its second call for applications (pre-proposals) for transnational research in integrated pest management in Europe.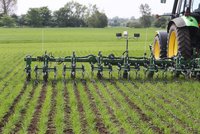 The ERA-Net C-IPM has gathered partners from 18 countries for its second joint call for transnational research projects, which will open on 31 March 2016 (15:00h CET).
The pre-announcement provides all the relevant information on the topics, projects eligibility criteria and submission procedure, timeline and contact details.
Further information about forms and guidelines, eligibility and evaluation criteria, content on topics, budget and the list of the National Contact Points (NCPs) will be published with the launch of the call, simultaneously.
Confirmed participant countries are: Austria, Belgium (Flanders and Wallonia), Czech Republic, Denmark, Finland, France, Germany, Greece, Ireland, Italy, Lithuania, Norway, Spain, Sweden, Switzerland, The Netherlands, Turkey and UK.
This call includes three clusters with nine subtopics:
CLUSTER A: Preventive and sustainable (pest) management
Subtopic A2: Integrated, sustainable and resilient cropping systems (RESCROPS)
Subtopic A3: Innovative and new pest monitoring tools and decision support systems (INNO-DSS)
CLUSTER B: Alternative and innovative control
Subtopic B1: Innovative direct biological control methods in a holistic IPM approach (INDIBICOM-IPM)
Subtopic B2: Pest resistance management (PRM) (the term pests includes weeds, arthropods, bacteria, fungi, insects, phytoplasma, viruses)
CLUSTER C: IPM in minor crops
Subtopic C2: IPM for Delia/Psila flies (cabbage root fly and carrot fly)
Subtopic C4: Fruitflies in stone fruits, pome fruits, berries and small fruits; Drosophila suzukii and other fruitflies
Subtopic C5: Mites (spider, rusts and bud) in berries and small fruits
Subtopic C7: Control of thrips and whiteflies on protected crops
Subtopic C11: Diseases in stone fruits (DISton).
Read more about the pre-announcement here.