Archive Archaeology: Preserving and Sharing Palmyra's Cultural Heritage through Harald Ingholt's Digital Archives
By Professor Rubina Raja and Research assistant Olympia Bobou.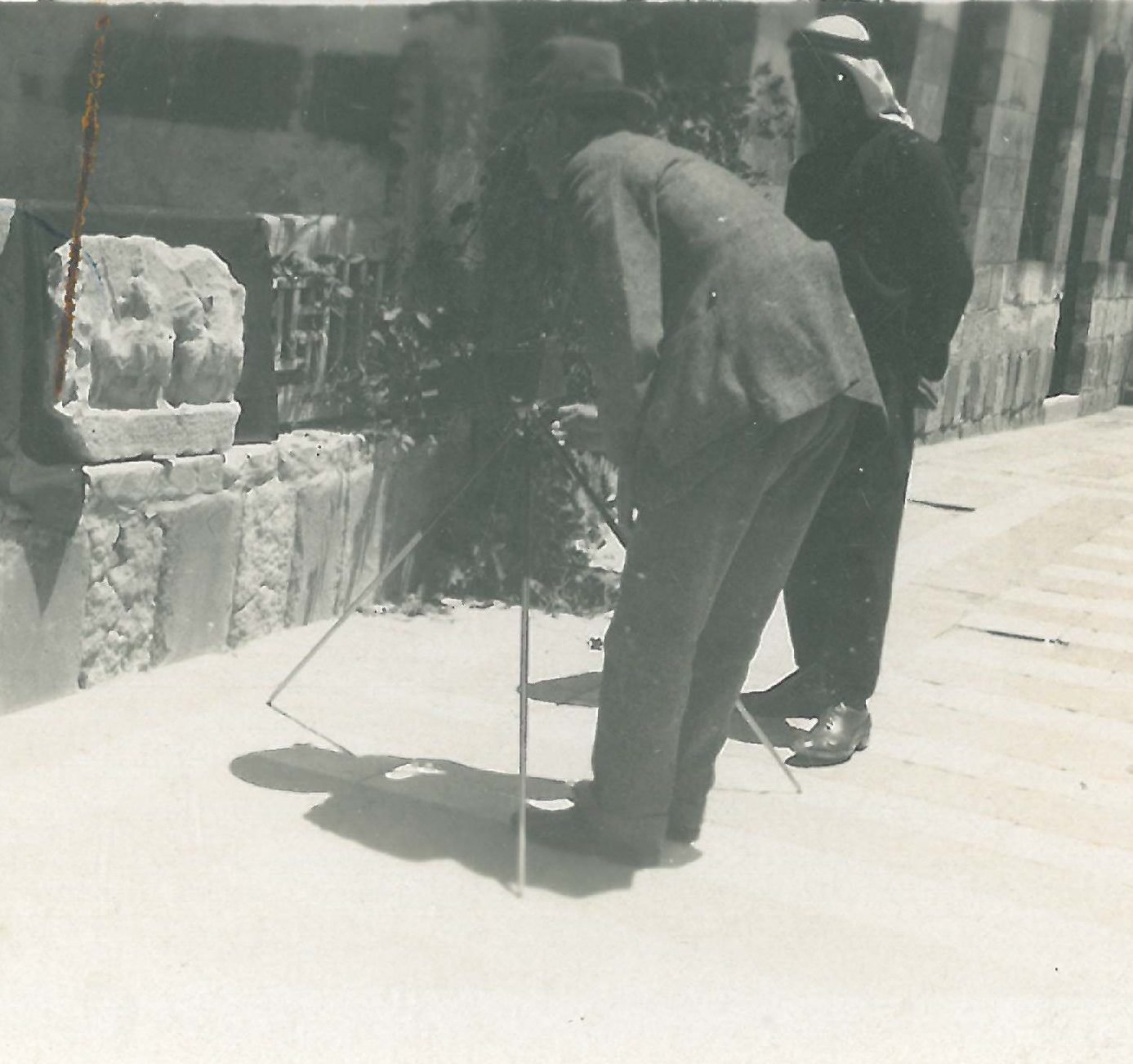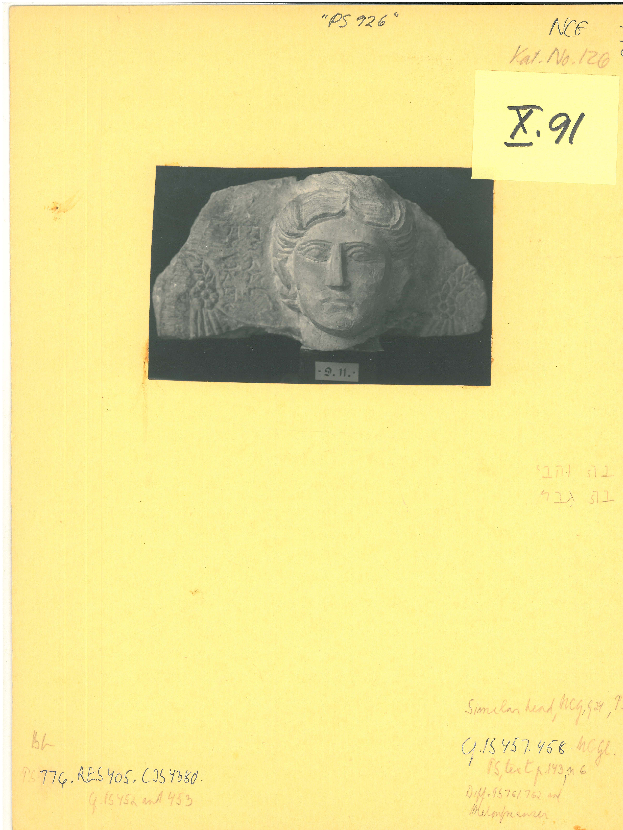 By Professor Rubina Raja and Research assistant Olympia Bobou.
Harald Ingholt was a Danish archaeologist (1896-1985), whose lifelong dedication to Palmyra and its art resulted in numerous influential publications, from his 1928 doctoral dissertation that established the chronology and typology of Palmyrene sculpture, still valid until today, to his foundation of the journal Berytus, and his 1958 exhibition catalogue connecting Palmyrene and Gandharan art, among others.
In the early part of his career, Ingholt excavated in Palmyra (1924, 1925, 1928, and 1935), focusing on the southwest necropolis. During these four campaigns, he brought to light and explored several underground tombs (hypogea), while he recorded the excavations and the associated finds in several diaries. At the same time that he started excavating, he also begun his study of Palmyrene sculpture, which resulted in his thesis, published in 1928. From that period, he started recording all the Palmyrene artworks known to him, thus creating one of the most extensive archives of Palmyrene art.
In 1983, he donated to the Ny Carlsberg Glyptotek his archive of excavation diaries from Palmyra, and all his archive sheets with the records of Palmyrene artworks. These contain valuable information: images, research notes on the chronology and typology of each object, transcriptions and translations of inscriptions, and references to publications where the object is discussed. Furthermore, part of Ingholt's archival photographs that were held in the Sterling Memorial Library at Yale, where he had held a chair in archaeology (1960-1964), were transferred to the Palmyra Portrait Project led by Professor Rubina Raja at Aarhus University.
The outbreak of the Syrian civil war in 2011 caused an undoubted humanitarian crisis, but it also threw the vulnerability of cultural heritage into sharp light. Research on site was halted from the very beginning of the war. Monuments and artworks in Palmyra were destroyed, while the selling of illicitly excavated antiquities gave opportunity for profit to militant groups.
The digitization of the Ingholt archives under the auspices of the Palmyra Portrait Project thus came at a critical moment for Syrian archaeology. It also revealed the wealth of information that was untapped. The objects in the archive sheets can be divided in four large groups: (1) previously published objects with Ingholt's research notes, (2) published objects whose current location and status of preservation is unknown, (3) objects known only from the Ingholt archives, and (4) excavation photos and drawings with added research notes and references.
Thanks to the generous funding by the ALIPH foundation, a global initiative that has financed projects aiming at protecting cultural heritage in war zones and conflict areas since 2017, it will be possible to publish and make the digital archive accessible to the public. The primary evidence collected in the unpublished archive will help assess damages and losses of Palmyrene heritage, by offering access to images documenting the pre-civil-war state of preservation of objects. Furthermore, it will be possible to reconstruct lost and damaged contexts.
The reconstruction of the tomb of Ḥairan, a collaborative project between Professor Raja, her team members, among these Dr. Olympia Bobou, and their project partner Scott McAvoy, University of California, Digital Media Lab, San Diego Library, can demonstrate the potential of thee Ingholt Archives for presenting a site at Palmyra that is now inaccessible, and potentially damaged.
https://sketchfab.com/3d-models/hypogeum-of-hairan-reconstruction-822c65461d824f2bb88b442225db5dc3
The primary aim of the project Archive Archaeology: Preserving and Sharing Palmyra's Cultural Heritage through Harald Ingholt's Digital Archives, is to make the archival material accessible through an online, searchable database. Ingholt's information, assessment of the objects and research notes will be transcribed and made available to the public, together with updated information on the objects. This will include references to new publications, but also an assessment and evaluation of the objects, such as preserved in museum, damaged, or lost.
The project also aims to further the scholarly discussion on best practices of archive archaeology, and to promote the creation of virtual reconstructions that can be easily accessible, and can be used at home, and in museum environments.
projects.au.dk/archivearcheology/
Further reading
Raja, R. & Sørensen, A. H. (2015). Harald Ingholt & Palmyra, Aarhus.
Raja, R. (2016). "Illegal trade and export of cultural goods: The case of the Palmyrene funerary portraiture", in: Chahin, D. & Lindblom, I. (eds.), Fighting the Illegal Looting of Syria's Cultural Heritage, Sofia, 11-12.
Raja, R. (2016). "The history and current situation of World Heritage sites in Syria: The case of Palmyra", in: Almqvist, K. & Belfrage, L. (eds.), Cultural Heritage at Risk, Stockholm, 27-47.
Raja, R. (2017). "Danish pioneers at Palmyra: Historiographic aspects of Danish scholarship on Palmyra", in: R. Raja (ed.), Palmyra: Pearl of the Desert, Aarhus, 21-30.