Signs from your blood
It can be difficult to diagnose a patient with Parkinson's Disease. But what if a simple blood test could show, if something's wrong? That's exactly what Marina - head of the IMPAD project - aims to do.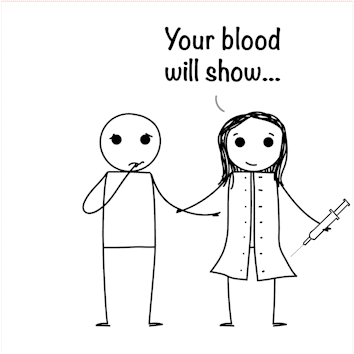 SIGNS FROM YOUR BLOOD
Your blood is not just red blood cells. It's a whole bunch of other things too. Including cells and proteins from the immune system. And that's why Marina believes a blood test might help doctors monitor patients with Parkinson's Disease (PD) more easily.
In fact, Marina has two main ideas for how to use immune-related signs from your blood in relation to PD:
1. PROGRESSION
PD is a brain disease that develops slowly over several years. The progressive changes in the brain are associated to disease stages. Marina has observed that these stages are often connected with changes in the immune system's proteins. She and her team are currently investigating, if the proteins present in blood can tell doctors about the patient's PD stage.
2. TARGETS FOR TREATMENT
Marina knows that the immune system plays a role in the development in PD. Therefore, it is likely that there are potential PD drug targets in the immune system. Her team is currently looking for these targets.
FROM HUMANS TO MICE AND CELLS
Not only is Marina's team investigating the signs from the blood samples and correlating them with the progression of PD in human patients. They are also analyzing the immune response in both a mice model and a human cell model. Their aim is to ensure that the models we use in the laboratory are well-suited for future studies in Parkinson's Disease.